NOTICES FOR THE WEEK COMMENCING
SUNDAY 9 DECEMBER 2018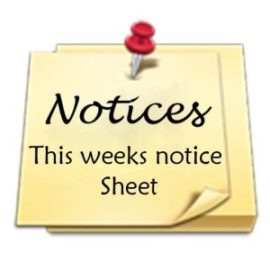 SUNDAY 9 DECEMBER
10.45am    We welcome Ann Worthy, from Prudhoe, who is to lead our worship this morning on this second Sunday in Advent. We will be lighting the second of our Advent candles as we move through this precious time of preparation.
Children are invited to come into church for the first part of this service before they leave for their own Sunday School session.   Crèche facilities are available for any little ones in Room 1 (across the atrium), providing there is parental supervision.
The flowers in church today have kindly been provided by Linda Nolan, to whom we are very grateful.
We are still waiting for the replacement amplifier, ordered for the loop system. We apologise for this continuing inconvenience. The existing one has been switched off to avoid interference.
4.00pm   An Advent themed session of "Messy Church" this month, will be held in the hall for young children and families. There will be stories, games and craft activities – concluding with tea for the children. All are welcome to come along.
Please note that the Sunday Evening Home Group is taking a break now until early in the new year.
MONDAY 10 DECEMBER
9.00 to 11.30pm    Soft Play sessions continue in the hall, today primarily for pre-Playgroup aged children.
WEDNESDAY 12 DECEMBER
10.30am (with coffee/tea served from 10.10am)   The monthly "Men at Home" meeting will take place in the foyer, when Richard Bevan will be speaking about "Seabird Biology. A Voyage Around the Islands".  All men will find a warm welcome. Just come along.
12 noon The Bible Lunch Time ("BLT") group will meet again today in Room 1, continuing to discuss Andrew Robert's book, "Holy Habits". This week, Chapter 11, "Prayer", which was held over from last time. Please come along at 12.00 noon with a packed lunch and share fellowship, or come for 12.30pm when the study session starts. All are very welcome – just come along.
8.00 to 9.30pm   The Wednesday Evening Home Group meet again at The Coach House, home of Bev and Tim Kenny.  This evening looking at chapter 1 of Luke's Gospel, particularly the "songs of Mary and Zechariah" as the Advent theme continues.   All are very welcome.
THURSDAY 13 DECEMBER
1.00 to 3.00pm  Another Soft Play session will be held in the hall, today primarily for babies and toddlers.
FRIDAY 14 DECEMBER
6.30 to 7.30am   The monthly Men's Prayer Breakfast will be held in the foyer with the usual bacon sandwiches, after which there will be 30 minutes of prayers between 7.00 and 7.30am – for ourselves, our community and the wider world.   All men are warmly invited to come along.
7.00pm   Acomb Methodist Church invite us to "With ONE Voice", an informal evening of Christmas music by the Acomb Methodist Choir. An offering will be taken for a charity and there will be refreshments
SATURDAY 15 DECEMBER
10.30am to 12 noon    Coffee/tea will be served again in the foyer for anyone able to call in for a while.
6.00 to 8.30pm   We are invited to a very special "Welcome Christmas" event, an evening of sharing of food and song for Christmas at the home of Randall and Willis Flack and family.   If you would like to attend and have yet to do so, please either sign up today on the list on the noticeboard, together with an offer of food items for a finger buffet or drink, or alternatively email da.featonby@gmail.com with details of what you will contribute and how many might come!  At the event, an opportunity will be provided to make a voluntary donation in aid of MacMillan Cancer Support.
SUNDAY 16 DECEMBER
10.45am   Our worship on this third Sunday in Advent is to be led by Marie Hutchinson.
3.00pm   There's to be a Christmas Puppet Show at Haydon Bridge Methodist Church.   Come and listen to some "Christmas songs with a difference".   Admission free.   Refreshments will follow the show.
6.00pm   The annual Wylam and District Churches Village Carol Service will take place at St Oswin's  Church, when it is hoped that many of us will be able to attend.
ADDITIONAL NOTICES AND FOR YOUR DIARY
PRAYER SPACE   We are very grateful to Beverley Kenny and Hilary King for putting together the beautiful new Advent theme for our Prayer Space. It is hoped that we will not just admire the artwork but make use of the prayers and readings on the boards and table display and perhaps add our own prayers as well.  As Bev explained last Sunday, the next Prayer Space development will be on the theme of "New Beginnings", and we are all asked to be thinking ahead about what we will contribute.
CHRISTMAS GREETINGS   As has been our practice for many years, a display board is now provided in the foyer for all who wish to display a single Christmas card offering a collective greeting to all church friends. In return, we are requested to make a donation of the money saved (cards and possibly postage) to "Tearfund", a Christian charity currently working in 50 countries around the world, providing relief from poverty and disasters. Please place your donation in an envelope marked "Tearfund" on the collection plate on any Sunday, or by passing it to one of our Church Stewards.
POSADA   Mary and Joseph are currently travelling around the village looking for somewhere to stay. If you are to be a host, please check the lists on the notice board to see when they will arrive at your door. Any problems, please contact David Featonby
CHURCH CLEANING   The appeal remains for more people to offer themselves to join the rota for cleaning these premises. Several current helpers are reaching an age when the task is becoming a burden, although the work is not particularly heavy and usually only involves being "on duty" for one week in every seven or eight weeks. If you can help or would just like more information, please speak to Georgina Peel, who kindly organises the rota.
GARETH DAVIES-JONES CONCERT   Local singer-songwriter Gareth Davies-Jones will, be performing his "Christmas Acoustic Tour" Concert here at 7.00pm on Saturday 22 December. Tickets are available from the 'Spar' or from David Featonby.  The price is £8 in advance or £10 at the door.
FANCY A PIECE OF ART (and history)?  A considerable number of prints have come to light of a pen and ink drawing of Wylam Methodist Church in 1975.  This drawing, by local artist Mrs Valentine, were produced and sold to raise funds at the time of the Chapel Centenary in 1976.  If you would like a copy, free of charge, please take one, from the foyer or atrium.
COMING SOON   
Thursday 20 December – annual Christmas Concert here, by the Ovingham and District Choir.  More details hopefully next week.
Sunday 23 December, 10.45am – Rev Jenny Porterpryde will lead our worship which will include a special Nativity presentation by the children.
Christmas Day, 10.45am – a special service of celebration for all ages.
PUBLICATIONS   Copies of the Circuit Plan for January to March 2019 are now available together with the Winter issue of "Living Waters", the Circuit magazine. Please help yourself to copies from the display rack in the atrium.
PRAYER FOOTNOTE   Living God, help us in all our preparations for Christmas – the writing of cards, buying of presents, wrapping of gifts, decorating the home – to make ready for you, preparing ourselves in heart and mind to worship you afresh and welcome you more fully into our lives, so that when the day of your coming finally dawns, we may be ready to great you and truly celebrate, not on our terms but on yours.   Amen    Nick Fawcett
Information for the next issue to Brian Japes by 7.00pm on Tuesday at the latest please
Tel: 852151 email:- brian@japesfamily.co.uk