NOTICES FOR THE WEEK COMMENCING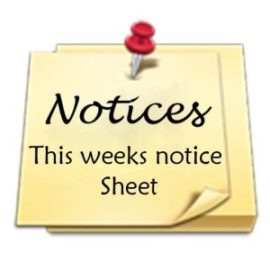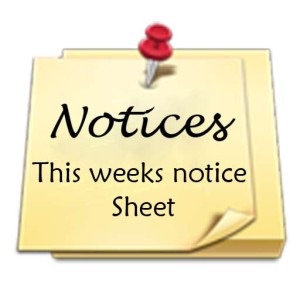 SUNDAY 23 SEPTEMBER 2018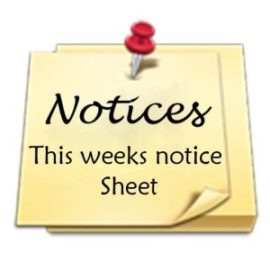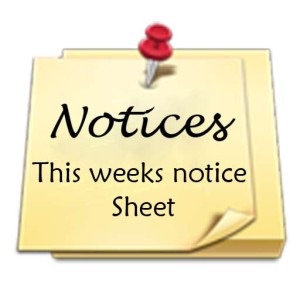 SUNDAY 23 SEPTEMBER
10.00am    If you receive this by email, or read it early, please remember the earlier start time today!
We extend a warm welcome to everyone who is joining us today for this United Service of the Wylam and District Churches as we celebrate "Harvest" together.
Welcome also to Rev Jenny Porterpryde, minister of this church, who is to lead our worship this morning, a service which is intended for all ages.
It is assumed that Children will remain in church today, but Crèche facilities are available for any little ones, should this be more appropriate.   This will be in Room 1 across the atrium, providing there is parental supervision.
We are very grateful to anyone who has brought gifts today which are suitable for the Food Banks which we are currently supporting, namely the Newcastle West and West Northumberland.    Although these gifts may not represent what we traditionally think of as the produce of harvest, this is surely what they are and their subsequent use is guaranteed to bring genuine help to people in dire need.   You are invited to bring gifts to a table at the front of the church when you arrive.
Today's Offering:    Loose cash on the collection plates today will go to support "All You Can", the charity formerly known as the Methodist Relief and Development Fund.
If you wish to use the loop system in the church, please turn your hearing aid to the appropriate setting.
We do hope that as many as possible will stay for coffee, tea or juice, which will be served from the foyer after this service. Please feel free to take your refreshments into the atrium or back into the church.
7.30 to 9.00pm    The Sunday Home Group will continue their meetings this evening, which until further notice are being held in the atrium here at church.   This evening, discussion will be based on chapter 15 in Andrew Roberts' book, "Holy Habits", on "Gladness and Generosity". All are welcome.
MONDAY 24 SEPTEMBER
9.00 to 11.30am   Another Soft Play session will be held in the hall, today primarily for pre-Playgroup aged children.
8.00pm  We are invited to share in an evening of informal worship, West End Methodist Church, Hexham, an hour of worship songs, word and prayer – with a live music group, hot drinks and cake!
TUESDAY 25 SEPTEMBER
2.30pm   The Women's Fellowship will meet again in the foyer, when Richard Porter will be giving an illustrated talk about "God's Creation". All ladies are warmly invited to come along.  Refreshments will be served at the end of the meeting.
WEDNESDAY 26 SEPTEMBER
12 noon   The Bible Lunch Time ("BLT") group will meet again today in Room 1, continuing to look together at and discuss Andrew Robert's book, "Holy Habits", considering ten practices, or "holy habits", that help us grow as disciples and church communities.   This week focussing on Chapter 7 "Introducing the Holy Habits".   Please come along at 12.00 noon with a packed lunch and share fellowship, or come for 12.30pm when the study session starts. All are very welcome – just come along.
8.00 to 9.30pm   The Wednesday Evening Home Group continues this evening at the home of Bev and Tim Kenny.   This week the group will be taking a break from "Holy Habits" to consider further that part of Nigel King's recent sermon and the related passage from Paul's Letter to the Colossians, Chapter 3 verses 1 to 17.    All are welcome to come along.   You are assured of a very warm welcome.
THURSDAY 27 SEPTEMBER
1.00 to 3.00pm    Another Soft Play session will take place in the hall, today primarily for babies and toddlers.
FRIDAY 28 SEPTEMBER
From 4.00pm   The Junior Ukulele group will meet again in Room 1.  New members are still welcome, from beginners to more advanced.   See David Featonby if you would like more information.
SATURDAY 29 SEPTEMBER
8.15 for 8.30am    The first of a new season of "Perspectives" Men's Breakfasts (Christian Vision for Men) will be held at the Vallum Tea Room, concluding at 10.00am.   The speaker this month is Matthew Curry, who will talk about "Farming, Family and Faith".   Matthew is a director and Head of Farming for Strutt and Parker in Morpeth and, for the past eight years, has been a director of Christian Adventure Holidays.   Full breakfast remains at £10 (Continental £8).    Booking is essential and Brian Japes will be pleased to offer lifts to others who are interested in going.    A poster giving further details can be seen on the notice board in the atrium.
10.30am to 12 noon   Coffee or tea will be available again in the foyer.   All are welcome if you would liketo call in for refreshments and a chat at any time.
SUNDAY 30 SEPTEMBER
10.45am   Our worship is to be led by Marie Hutchinson, another of "our own" Local Preachers for whom we are so grateful.
7.30 to 9.00pm The Sunday Evening Home Group will meet again in the atrium, here at church, continuing their study of "Holy Habits" by Andrew Roberts. This week, chapter 16, "Worship".   All are welcome to come along.
ADDITIONAL NOTICES AND FOR YOUR DIARY
HARVEST SUPPER    The Harvest Supper, held last Saturday evening was a lovely and successful evening, enjoyed by a great company of all ages. We are particularly grateful to Anne Featonby and Brenda Newbegin for their organisation and hard work, to the many friends at St Oswin's who hosted the event and also worked hard, to those who made the wonderful supper and not forgetting the organisers of the quiz, which was great fun.  As a result, a little over £600 was made which is to go to support the work of The People's Kitchen, in Newcastle.
FAIR TRADE   We are very grateful to Jayne Stanton, who now wishes to step down, and to others who have organised the 'Fair-Trade' stall and provisions at the church for several years, through "Traidcraft".   Although we wish to continue to support 'Fair-Trade' products by buying our tea/coffee, toilet rolls etc through this route; as the stall has become less busy, consideration is being given to winding this down and exploring other avenues for promoting fair-trade and possibly other ethical ventures.   If you would be interested in any of the following options please contact the Church Stewards within the next few weeks:-
Option 1. Continuing running with the stall with the help of others – if you don't want to see it go!
Option 2. Ordering and taking delivery of our 'Fair-Trade' products.
Option 3. Overseeing how we develop as a "Fair-Trade" or "Ethically-Minded" church.
This note was prepared prior to the sad and significant news on Thursday that the "Traidcraft" business, based in Gateshead, is to cease trading in December.    This may well influence the way in which this issue is progressed.
PRAYER SPACE     Perhaps on this ecumenical occasion it's an appropriate time to remind everyone of our new Prayer Space in the atrium, which is a very special area which we hope that anyone can and will take the opportunity to use.    It is intended to highlight that we are a house of prayer, to be informative and creative, with themes that will change every few months.   Do have a look today!
COPIES of the Autumn issue of "Living Waters", the Tynedale Circuit magazine and the Circuit Plan for October to December, remain available in the atrium.   Please help yourselves to these and any of the many other interesting duplicated items that you will find on the display.
PRAYER FOOTNOTE   Almighty and gracious Father, we give you thanks for the fruits of the earth in their season and for the labours of those who harvest them. Make us, we pray, faithful stewards of your great bounty, for the provision of our necessities and the relief of all who are in need, to the glory of your name; through Jesus Christ our Lord, who lives and reigns with you and the Holy Spirit, one God, now and for ever.    Amen       from the Book of Common Prayer/Book of Divine Worship
Information for the next issue to Brian Japes by 7.00pm on Tuesday at the latest please
Tel: 852151 email:- brian@japesfamily.co.uk