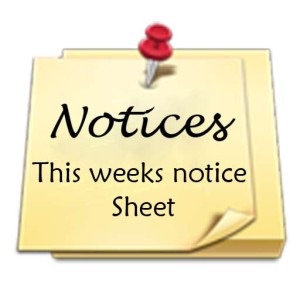 NOTICES FOR THE WEEK COMMENCING
SUNDAY 18 MARCH 2018
SUNDAY 18 MARCH
10.45am   Our worship this morning takes the form of another Café Church, a less formal act of worship which we trust will appeal to many, possibly some who don't usually join us for our regular Sunday worship.  Today's session is based on the 23rd Psalm, and led by our minister, Rev Jane Cook.   If you receive these notes in advance, do make this widely known and invite folk to come along.
This Café Church format is one for all ages and so children are invited to join in. If there are any little ones for whom Crèche facilities would be more appropriate, these are available in Room 1, across the atrium, providing there is parental supervision.
If you wish to use the loop system in the church, please turn your hearing aid to the appropriate setting.
Please stay if you can for coffee, tea or juice, which will be served in the foyer, immediately after this service.
7.30 to 9.00pm   The Sunday Home Group will meet this evening for Week 5, the final Lent Study, at the home of the Green family.
MONDAY 19 MARCH
9.00 to 11.30am   Soft Play sessions continue in the hall, today primarily for pre-Playgroup aged children.
7.30pm    The final Lent Study session for the Monday group will take place at the home of April Stephenson (contact April – 852197).   All are welcome.
TUESDAY 20 MARCH
2.30pm    The Women's Meeting (Methodist Women in Britain) will meet again in the foyer, when Marie Hutchinson will be sharing some "Easter Thoughts".   All ladies are warmly invited to attend.  Refreshments will be served at the close of the meeting.
7.30pm    The Ladies Group at West End Methodist Church, Hexham, invite us to an "Action for Children Fundraiser", an evening of song with Lee Faulkingham. Tickets at £6, include supper.
WEDNESDAY 21 MARCH
8.00 to 9.30pm    A chance to join a group for the 4th session of the five-week Lent Study sessions, "Moving Into the Neighbourhood", this evening at the home of Bev and Tim Kenny (contact Tim – 599135).   All will be made very welcome.
THURSDAY 22 MARCH
10.30am   The further opportunity this week to attend Week 5, the last session of the Lent Study series, this morning at St Oswin's Church (contact Rev Tom Birch – 853254).  As with all these sessions, this one is open to everyone and all are welcome to come along.
1.00 to 3.00pm   Another Soft Play session will be held in the hall, today primarily for babies and toddlers.
7.00 for 7.30pm    A reminder of the "Perspectives Dinner", for those who have booked, which is to be held at Matfen Hall.  The after-dinner speaker will be Brian Griffiths (Lord Griffiths of Fforestfach).  Lord Griffiths is an Economist with wide-ranging experience within and outside Government.  He is currently Chairman of "Christian Responsibility in Public Affairs" and has written extensively about the relationship of the Christian faith to politics, business and monetary policy.
FRIDAY 23 MARCH
4.00 to 4.30pm  The Ukulele Starter's Group will meet in Room 1.
4.30 to 5.00pm The Junior Ukulele Group will meet in Room 1 for their practice session.
SATURDAY 24 MARCH
8.15 for 8.30am   The March meeting of "Perspectives", Men's Breakfast, will be held at the Vallum Tea Room when, after breakfast, Michael Urwin will be talking about "The Journey".  From 1989 until retirement, Michael was National Field Development Manager for Gideons International. Booking is required.  Please refer to the poster on the notice board and/or talk to Brian Japes for more information.
10.00am to 12 noon   Do please come along and support our Easter Charity Coffee Morning, in aid of  "Blood Bikes", a charity whose volunteers help to deliver essential blood and urgent medical supplies to where they are needed, 24/7.   A "Blood Biker" will be present at this event and will no doubt be able to answer first hand any questions people may have.   There will be a craft stall and a cake/produce stall, for which any offers will be gratefully received.   Please see Brenda Newbegin or Anne Featonby if you need any further information.
 2.30pm  A reminder of the Spring Lecture to the North East Methodist History Society, at Haydon Bridge Methodist Church, when Dr Christine Seal will be speaking about "Dales Preachers' Tales".   Please refer to the poster on the notice board if you have not already picked up on the necessary details.
SUNDAY 25 MARCH
10.45am   Worship here for Palm Sunday is to be led by Rev David Goodall, from Hexham.
ADDITIONAL NOTICES AND FOR YOUR DIARY
EASTER SERVICES      As Easter approaches please make a note of the following planned services:-
Maundy Thursday – 29 March – service here at 7.30pm, led by Rev Jane Cook
Good Friday – 30 March – joint service at St Oswin's 9.30am, followed by short act of witness around
the cross at Charlie's Corner
Easter Sunday 1 April – Worship for Easter Day, including Holy Communion, Rev Jane Cook
EASTER CARDS    Easter cards for delivery around the village are now here, on the table in the atrium. If there's an envelope containing cards addressed to someone who is not here today, please take it for them if you can.
EASTER VERSES    We are invited by friends at Haltwhistle Methodist Church to "Easter Verses", the Easter Story told in poetry and song, to be given on Saturday 31 March at 2.00pm, followed by Tea and Hot Cross Buns.   Donations for Keenley Methodist Church.   All are welcome.
BOOK TROLLEY   We are very grateful for the gift from a member of the congregation of a very nice book trolley, primarily to hold the now less frequently used copies of Hymns & Psalms but with capacity, as you will see, for other worship related books as well. Don't take too much notice of its present location, experience will determine where it will normally be kept, although it is, of course, moveable.
KESWICK   A large group from this church, together with a few friends, will be staying at the Keswick Convention Centre for a few days this week. We trust that they will have an enjoyable break together and return refreshed and spiritually energised.   We look forward to hearing what you've been up to!
"CREATING SAFER SPACE"    Further training sessions have been arranged for those who are required to undertake this training. These are as follows:-
Saturday 4 April at 10.00am at West End Methodist Church, Hexham.   This is a "Beginners Course".
Thursday 19 April at 7.30pm, here at this church.   This will be a "Refresher Course".
Tuesday 24 April at 7.30pm at Haltwhistle Methodist Church.   This to be another "Refresher Course".
These courses will all be led by Anne Lambert, our Circuit Safeguarding Officer. Please note that if you do have a certificate for this, it now needs to be renewed every 4 years. Please refer to the poster on the notice board for details of how to book a place or if you need to check who needs to undergo this training.
COPIES of the Circuit Plan for April to June, together with copies of the Spring issue of "Living Waters", the Circuit quarterly magazine, are now available. Please do take a copy, particularly of the magazine, which is sure to contain something of interest to you.
THANK YOU to everyone who helped to make my "special" birthday last Sunday even more special, by your good wishes and kind thoughts – not forgetting that lovely surprise cake! Brian
PRAYER FOOTNOTE Father, pour out your Spirit upon us and grant us a new vision of your glory, a new experience of your power, a new faithfulness to your word and a new consecration to your service, that your love may grow among us and your Kingdom come, through Christ our Lord.    Amen    Source unknown
Material for the next issue to Brian Japes by 7.00pm on Tuesday at the latest please
Tel: 852151 email: brian@japesfamily.co.uk