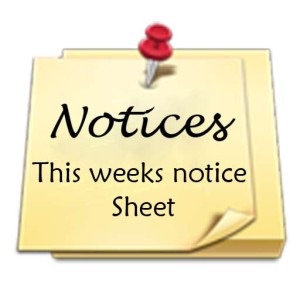 NOTICES FOR THE WEEK COMMENCING
SUNDAY 22 APRIL 2018
SUNDAY 22 APRIL
10.45am    We welcome Nigel King, who is to lead our worship this morning. We were all delighted,
particularly those of us able to attend Nigel's inspiring accreditation service last week, that Nigel is now a fully accredited Local Preacher. However, not wanting to rest (!), Nigel is now undertaking a post-accreditation project which will see him leading our worship here on a monthly basis, probably for the remainder of this year. During this time he will be guiding us through Paul's Epistle to the Colossians, with a series of sermons aimed to foster our deeper discipleship whilst challenging and encouraging us. There's no doubt that Nigel will wish to add more detail himself about how he intends to implement this plan, which we trust will receive our full support.
Children will come into church for the first part of this service before leaving for their own Youth Church activities.   Crèche facilities for any very little ones are also available in Room 1, across the atrium, providing there is parental supervision.
We are very grateful to Dorothy and Patrick Eavis, who have kindly provided the flowers that are decorating the church today.
If you wish to use the loop system in the church, please turn your hearing aid to the appropriate setting.
Please stay for coffee, tea or juice, which will be served in the foyer immediately after this service.
7.30 to 9.00pm    The Sunday Home Group will continue this evening, meeting at 1 Hedley Road, the home of the Favraud family. All are welcome.
MONDAY 23 APRIL
9.00 to 11.30am    Soft Play sessions continue in the hall, today primarily for pre-Playgroup aged children.
WEDNESDAY 25 APRIL
8.00 to 9.30pm    The Wednesday Home Group continues this evening at the home of Bev and Tim Kenny, when anyone interested in coming along, whether you have been previously or not, will be made very welcome.   The group is continuing a series of studies from the book "Holy Habits", based on verses from Acts, Chapter 2.
THURSDAY 26 APRIL
1.00 to 3.00pm   Another Soft Play session will be held in the hall, today primarily for babies and toddlers.
FRIDAY 27 APRIL
4.00 to 4.30pm   The Ukulele Starter's Group will meet again in Room 1.
4.30 to 5.00pm   The Junior Ukulele Group will also meet again in Room 1 for their practice session.
SATURDAY 28 APRIL
8.15 for 8.30am   The final meeting of the current series of "Perspectives", men's breakfasts, will take place at Vallum Farm Tearoom, when the speaker will be Nigel Jones – "A Surgeon's Tale".   Nigel is a retired Consultant Surgeon. Since retirement he has been a part-time medical ethics tutor at Newcastle University.    Any men interested in attending, speak to Brian Japes or David Featonby.
10.30am to 12 noon    Coffee/Tea will again be available in the foyer, for anyone able to call in.
SUNDAY 29 APRIL
10.45am    We look forward to welcoming Ruth Johnson, from Prudhoe, who is to lead our worship here for the first time. Ruth is currently one of the Local Preachers "on trial" within our Circuit.
7.30 to 9.00pm   The Sunday Home Group will meet this evening at the home of the Green family, when all are welcome to come along.
ADDITIONAL NOTICES AND FOR YOUR DIARY
"YOUNG PEOPLE'S PROBLEMS"     We are invited by the Mothers' Union at St Oswin's Church to a talk with this title, to be given by Dr Peter Tayler at 7.30pm on Wednesday 2 May in St Oswin's Church Hall.   The talk will raise awareness of the complexities of young people's problems in today's world.   All are welcome.
"OPEN THE BOOK" TRAINING DAY    Having been advertising for some time a training opportunity at Haydon Bridge for this Bible Society Scheme, we are now pleased to report that there will be a local opportunity at St Oswin's to share in training organised by the Newcastle Diocese.   This will take place from 10.00am on Thursday 10 May.   The Wylam and District Churches intend to introduce this scheme to assemblies at Wylam First School from September on a once per month basis and it is hoped that many adults will be prepared to assist by briefly playing the part of bible characters or providing support in other ways, such as making simple costumes or other "props".   This is seen as a great opportunity to enrich our outreach to children in this community and we hope that many people will wish to be involved.   Booking for this training is almost certainly going to be requested.   Please look out for details which we will bring as soon as they are known.
CHRISTIAN AID WEEK 13 – 19th MAY   This year's Christian Aid Week house-to-house collection is currently being planned and YOUR help is needed.   If you have usually collected and ARE able to do so again this year you will be contacted in the next few weeks.   If you have usually collected but are NOT able to do so this year, please let either Jane Cook (852143), or Susan McLean (852065) know as soon as possible.   If you have not collected before but feel this is a way you could help some of the world's poorest people, please contact Susan or Jane.
CHANGE TO THE PLAN In relation to the above, please note the following amendment to the published Circuit Plan.   Sunday 13 May is Christian Aid Sunday which will be a United Service at St Oswin's, commencing at 11.30am.   Therefore Rev Jenny Porterpryde will not be leading worship here that day as indicated on the plan.   Instead, she will lead our worship on Sunday 3 June, in place of Rev Jane Cook, who will take the equivalent service that morning at Prudhoe in place of Jenny.
RESOURCING LOCAL WORSHIP    This is the title of a Circuit Course, aimed to help those leading "local arrangement" services.  It will be held at Haydon Bridge Methodist Church, 9.30am to 12.30pm on Saturday 5 May.  Details of the content of the course can be seen now on our main notice board.  To attend, give your name to Kathleen Armstrong by 1 May – kathleenoffice50@gmail.com
DISTRICT WALK   For anyone looking for a little gentle exercise on Bank Holiday Monday, 7 May, we suggest you pop along to Rowlands Gill to join the annual Methodist District Walk.   Start (and finish) is at Strathmore Road Methodist Church, Rowlands Gill at 11.00am, with coffee/tea served from 10.00am. Lunch – bring your own picnic – toilets available. It's an easy 5 mile walk in the Derwent Park.   Finish at about 3.00pm with refreshments and a short act of worship. See the notice board for full details.
FOR MEN   "In the Arena" is the title of a "Care for the Family" event which is touring the country and will be at Bethany City Church, Sunderland, on Tuesday 1 May at 7.30pm. The evening plans to give men some practical and tested advice about critical areas of everyday life, including friendships, finance, faith, family, character and career. Please refer to the notice board for details of speakers and ticketing.
FOR WOMEN    "Free to Be" is the title of an event run jointly by "Care for the Family" and "Spring Harvest", which will be at The Assembly Rooms, Newcastle upon Tyne on Tuesday 15 May at 7.30pm.   This event is described as being for Christian Women, covering themes of "free to be me", "free to be loved and to love", "free to be real" and "free to be brave".   Please refer to the notice board for details of speakers and ticket arrangements.
MAKE A NOTE   The annual "Jump for Joy" event will take place in and around St Oswin's Church Hall on the afternoon of Sunday 20 May this year.   Get planning those teddy bear parachutes!
The Wylam and District Churches Holiday Club will be based here from Tuesday 21 to Thursday 24 August, with a preparation and familiarisation session for volunteers on Monday 20 August.    A team is needed to help Ruth Lindridge prepare for this important event and volunteers will be needed, as usual, throughout the Holiday Club.   Please offer help if you possibly can. More details will follow.
PRAYER FOOTNOTE    God of grace and glory, use the work of our hands for the blessing of others, the love of our hearts for the strengthening of relationships and the service of our lives for the building of community, all to your glory, through Jesus Christ, our Lord.    Amen    Michael Townsend
Material for the next issue to Brian Japes by 7.00pm on Tuesday at the latest please
Tel: 852151 email:- brian@japesfamily.co.uk