NOTICES FOR THE WEEK COMMENCING
SUNDAY 24 JUNE 2018
SUNDAY 24 JUNE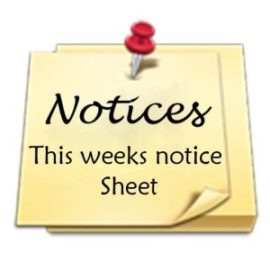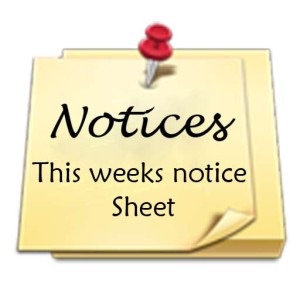 10.45am    We welcome "our own" Nigel King, who is to lead our worship this morning.   This will be the
third in a series in which Nigel is leading us through Paul's Epistle to the Colossians
Children are invited to come into church for the first part of this service before they leave for their own Youth Church.   Crèche facilities are available in Room 1 for any little ones, providing there is parental supervision.
If you still have an envelope and wish to contribute to the work of "MHA", supporting Methodist Homes, please return it on the collection plate today.   There are still envelopes available if you have somehow missed previous distributions.   Please ask if you cannot see one.
The flowers decorating the church today have kindly been provided by Coral and Alan Smart, to whom we are very grateful.
If you wish to use the loop system in the church, please turn your hearing aid to the appropriate setting.
Please stay for coffee, tea or juice, which will be served in the foyer immediately after this service. This is the final Sunday when any donations for refreshments will go to "Shelterbox". From next Sunday, donations will be for "HOPWOSC" (the Holy Paraclete Women's Skills Centre) in Ghana.
7.30 to 9.00pm   The Sunday Home Group will meet this evening at the home of the Favraud family.   Discussion this week will continue on the "Holy Habits", as described in Andrew Robert's book. All are welcome, whether you have the book or not!
MONDAY 25 JUNE
9.00 to 11.30am    Soft Play continues in the hall this morning, today primarily for pre-Playgroup aged children.
WEDNESDAY 27 JUNE
12 noon    The Bible Lunch Time ("BLT")group will meet today in Room 1, looking together at Andrew Robert's book, "Holy Habits". Please come along at 12.00 with a packed lunch and share fellowship, or come for 12.30pm when the session starts. All are welcome.
8.00 to 9.30pm   The Wednesday Home Group will meet again this evening at the home of Brian Japes.   All are welcome to come along.   This week the group will be discussing points raised by Nigel in his address to us based on Colossians on Sunday.   Don't worry if you miss the sermon, notes will be available.   (This group will resume meetings at their usual venue next Wednesday).
THURSDAY 28 JUNE
1.00 to 3.00pm   Another Soft Play session will be held in the hall, today primarily for babies and toddlers.
FRIDAY 29 JUNE
7.30pm    We are invited to a Concert in St Oswin's Church, to be given by Musica Johannis, a vocal octet.  The programme will comprise a variety of music, all easy listening, and a capella, ranging from North Country Folk Songs to popular standards such as "Tea for Two".   Tickets are £8 (including refreshments) and under 18s are free.   Tickets from Fiona (07798 724631) or at the door.
SATURDAY 30 JUNE
10.30am to 12 noon   Coffee or tea will be available again in the foyer.   All will be welcome if you would like to call in for refreshments and a chat.
SUNDAY 1 JULY
10.45am    Our worship is to be led by our minister, Rev Jane Cook. This service will include Holy Communion.
7.30 to 9.00pm   The Sunday Home Group will meet again but please look out for the venue, which will be given in the next issue.
ADDITIONAL NOTICES AND FOR YOUR DIARY
PHILIP BROOKS    We can now confirm that the funeral of Philip Brooks, who died suddenly on 10 June, will take place on Friday 13 July.   There is to be a private service of committal that morning, followed by a Service of Thanksgiving for Philip's life at St Oswin's Church at 2.00pm.
BOOK SALE    It might be possible for an announcement to be made on Sunday about money raised from this sale on Saturday as part of Wylam Summer Fair, but for those receiving these notes in advance, by email, there's probably time to remind everyone that lots of help is needed on Saturday (9.00am to 5.00pm) and so Jayne Stanton could be pleased, even at this late stage, to hear from you.
For obvious reasons, the following two items are important, and repeated for that reason:-
A GIFT TO SAY "THANK YOU"    As you know, Rev Jane Cook is leaving before long to take up her new post in the Sunderland Circuit. Her last service with us will be on Sunday 15 July (see more below). Jane will be presented with a cheque on that occasion as a mark of our appreciation of her ministry to us over the last 8 years. Jane has indicated a wish to purchase certain items that she will use in her future ministry, that will also serve as a reminder of her days here.
If you would like to contribute to the cheque/gift please would you let one of the Church Stewards (Nigel, David, Bev or Marie), have your contribution, if possible by the end of June. Cheques should be made payable to Wylam Methodist Church. If you wish to donate anonymously you can place your gift on the collection plate in an envelope marked "Jane".
The Tynedale Circuit will also be making a presentation to Jane on Sunday 22 July at the Circuit Service at 6.00pm at Corbridge.   (Please note, this service is at Corbridge, not here in Wylam as stated in the latest issue of "Living Waters".)
JANE'S FINAL SERVICE    Sunday 15 July will be Jane's final service as Methodist minister in Wylam and there will be a united service of thanksgiving and celebration here at 10.45am that day. Following this service there will be a "bring and share finger-buffet" lunch to which all are warmly invited. There is a sheet at the back of the church (if not, it's on the notice board) to "sign up" to bring a contribution for this meal and hopefully to enable a reasonable split between "savoury" and "sweet" items.
YOUTH CHURCH THROUGH THE SUMMER    It is intended that Youth Church, for the children, will continue this year throughout the summer. If you are willing to take a lead on one Sunday, please contact Paul Featonby as soon as possible.
WEDNESDAY COFFEE EVENINGS   Although there's no urgency, there are still two Wednesdays in August awaiting a volunteer host and location.  Please check the notice board and sign up if you wish to help.   These evenings will commence on Wednesday 18 July.
PUBLICATIONS Copies of the new Circuit Plan for July to September and the Summer issue of the "Living Waters" magazine are now both available in the atrium.  Please help yourselves.
PRAYER FOOTNOTE     O God, Trinity of unity and love, we hear you calling us to leave behind any divisions of the past and to find our true unity in you.    Forgive our fears and faithlessness, open our eyes to the future for your church and give us the strength and courage to turn the vision into reality, that together we might reveal your redeeming love to all.   Amen                                                                                                                                           a prayer from the Scottish Church Initiative for Union
Material for the next issue to Brian Japes by 7.00pm on Tuesday at the latest please
Tel: 852151 email:- brian@japesfamily.co.uk