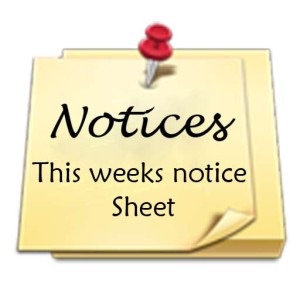 NOTICES FOR THE WEEK COMMENCING
SUNDAY 3 NOVEMBER 2019
SUNDAY 3 NOVEMBER
10.45am   We welcome Graham Wilson, who is to lead our worship this morning.

Children are invited to come into church for the first part of this service before leaving for their own Sunday School session.  If there are any very little ones for whom crèche facilities would be more appropriate, these are available in Room 1, providing there is parental supervision.
If you wish to use the loop system in the church, please turn your hearing aid to the appropriate setting.
The flowers decorating the church today have kindly been given by Irene Flaws, to whom we are very grateful.
Please stay for a while if you can to share in refreshments, which will be served in the foyer immediately following this service.   Any donations for these refreshments are currently for "All We Can", the charity formerly known as the Methodist Relief and Development Fund.
9.00 to 11.30am  Soft Play sessions resume in the hall today after the Half Term break.  Today primarily for pre-Playgroup aged children.
7.30pm   A final reminder about the four-session Worship Leaders Course, to be led by Rev David Goodall, which commences this evening at Trinity Methodist Church, Hexham.   The course aims to equip participants to share in leading of services with a minister or local preacher, to lead local arrangement services or worship in fellowship groups or similar.   Please let David Goodall know if you wish to attend so that materials are available – email: rev.david.goodall@gmail.com
TUESDAY 5 NOVEMBER
2.30pm   The Women's Fellowship will meet in the foyer this afternoon, when Andy Haddon will be speaking about "Changing the World – One Loaf at a Time".   All ladies are invited to come along.   Refreshments will be served after the meeting.
5.00pm   Once again, Tim and Beverley Kenny have very kindly invited everyone to a bonfire in their garden.  The bonfire will be lit at 5.00pm and sausage sandwiches served (to the first 50!) from 5.30pm.   There's limited seating so you may wish to bring a picnic chair.   Please feel free to bring cake/marshmallows/sparklers etc.  If you're able-bodied, please park in the outside road as parking is limited, (or walk!).  If pouring with rain the event will be cancelled.
WEDNESDAY 6 NOVEMBER
12 noon   The monthly Lunch Club will take place in the foyer, essentially for the 'over-70s' who normally attend.   However, if you haven't usually attended and wish to join in, please contact Anne Featonby.
8.00pm   The Wednesday Evening Home Group resume their weekly meetings this evening at the home of Bev and Tim Kenny, when a new study is planned to begin.  As always, all who are interested are very welcome to come along.
THURSDAY 7 NOVEMBER
12 noon to 1.00pm   Another weekly drop-in time for prayer, will take place here, when two members of our prayer team will be available for listening and prayer.
1.00 to 3.00pm   Another Soft Play session will be held in the hall, today primarily for babies and toddlers.
FRIDAY 8 NOVEMBER
6.30 to 7.30am   The monthly Men's Prayer Breakfast will be held in the foyer, with "bacon butties", followed by 30 minutes of prayers between 7.00 and 7.30am – for ourselves, the village and the wider world.   All men are warmly invited to come along.
3.30 to 4.30pm   There will be an opportunity for ukulele players to come together in Room 1, today and on the following three November Fridays at this time, to prepare for Nativity.   Further details from or queries to David Featonby.
SATURDAY 9 NOVEMBER
10.30am to 12 noon   Coffee and Tea will again be served in the foyer, an opportunity for anyone to drop in for refreshments and a chat.
Please note:    The Choral Miscellany "Christmas is Coming", due to be held today at Trinity Church, Gosforth, has had to be cancelled.
7.30 to 9.00pm   We are invited to another "Now is the Time to Worship", a Christian Celebration Evening, promoted by Churches Together in the Tyne Valley.   This month's theme is "Hungry for More", with guest speaker Rev Peter Jorysz.   This is to be held at the Tynedale Function Suite, Hexham Auction Mart.   Admission is free, donations welcome.
SUNDAY 10 NOVEMBER    Remembrance Sunday
Please remember that there will be no service here at the Methodist Church this morning.
10.00am    We are all invited to the United Village Service for Remembrance Sunday, which this year is being held at St Oswin's Church. This will be a shortened service, led by Rev Tom Birch, following which those who wish will process to the War Memorial for the traditional Act of Remembrance at 11.00am.  Representatives from 3 Reg. Royal Horse Artillery, based at Albemarle, will once again lead the procession, along with the local uniformed youth organisations.
Immediately after the Act of Remembrance, all are invited to this church, where coffee or tea will be served.   We are sure that Georgina and Denis will appreciate some additional help with the refreshments on this occasion.
4.00 to 5.30pm    Another "Messy Church" session will take place in the hall, with fun, games and craft activities for young children and families, concluding with tea for the children.  We hope that everyone will help to make this known to appropriate friends and neighbours.
ADDITIONAL NOTICES AND FOR YOUR DIARY:-
CHRISTMAS COFFEE MORNING    A reminder that this event is now almost here – Saturday 16 November, 10.00 am to 12 noon.  Stalls will include cakes and produce, gifts, crafts, children's books, jigsaws and toys. There will also be a stall selling items for crafting, a new or 'very nearly new' clothes stall will be included along with a jewellery stall.   Please let Brenda Newbegin or Anne Featonby know if you can provide any items for the stalls, or how you could help.
PRAYER INITIATIVE    Throughout November the Wylam and District Churches Prayer Initiative invites us to pray for the residents of Dene Terraces, Algernon Terrace and Denecroft.   The general prayer theme this month is focused on Law and Order, this week thinking particularly about "The Prison Service".
"CREATING SAFER SPACE"   A Safeguarding "Foundation Module Refresher Course" is to be held here on Thursday 21 November at 7.30pm.   Please note that these courses need to be updated every four years.   If you are in any doubt, Anne Featonby, our Safeguarding Officer, should be able to advise you about your current status, but you can be fairly sure there won't be another course as close to home as this one for some time.   To book a place, contact Kathleen Armstrong, Circuit Administrator at kathleenoffice50@gmail.com or by phone on 01434 684483.
PRAYER FOOTNOTE   God our Creator, Redeemer, Sustainer: may we who know your love, act justly; may we who know your grace, love mercy; may we who know your generosity, walk humbly with you. Inspire us in prayer and strengthen us in action for the transformation of the world and the glory of your name.    Amen                                                                                                       Elaine Pyrke
Material for the next issue to Brian Japes by 7.00pm on Tuesday at the latest please Tel: 852151 email:- brian@japesfamily.co.uk