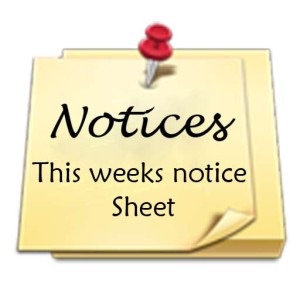 NOTICES FOR THE WEEK COMMENCING
SUNDAY 27 MAY 2018
SUNDAY 27 MAY
10.45am    We welcome Nigel King who is to lead our worship this morning. This is the second of the
themed services in which Nigel is currently guiding us through Paul's Epistle to the Colossians, with sermons aimed to foster a deeper discipleship whilst both challenging and encouraging us.
Children are invited to come into church for the first part of this service before they leave for their own Youth Church session.  Crèche facilities are available in Room 1, across the atrium, for any little ones and providing there is parental supervision.
We are very grateful to Anna Thomas, who has kindly provided the flowers that are decorating the church today.
If you wish to use the loop system in the church, please turn your hearing aid to the appropriate setting.
Please stay for coffee, tea or juice, which will be served in the foyer immediately after this service. Any donations for "ShelterBox".
Please note that "Something on a Sunday", for our older teenagers, is taking a break during the summer and will meet again in September.
Please also note that the Sunday Home Group is taking a break this Bank Holiday weekend – back next week.
MONDAY 28 MAY
Please note – No Soft Play sessions this week during Half Term.   Soft Play will resume next week on Monday 4 June and Thursday 7 June.
WEDNESDAY 30 MAY
Please note – as with several other groups, the Wednesday Home Group is taking a break this week during the school Half Term holiday. Back again on Wednesday 6 June.
SATURDAY 2 JUNE
10.30am to 12 noon    Coffee or tea will, as usual, be available in the foyer if you would like to call in for refreshments and a chat.
5.00 to 6.30pm   "The Hub", for youngsters in years 4, 5 & 6 will meet again here.
7.00 to 9.00pm   "The Gathering", for school year 6 and above, will also take place here. Young people in either of these age groups are very welcome to come along for games, activities and refreshments!
SUNDAY 3 JUNE
10.45am    As advised previously, in a change to the published Circuit Plan our worship is to be led by Rev Jenny Porterpryde, from Prudhoe who will, as you know, also become our minister from September.   This service will include a celebration of Holy Communion.
7.30 to 9.00pm   The Sunday Home Group will meet this evening at the home of the Histon family, when all are welcome.  This week the group will be studying Nigel's second set of notes, based on his sermon on 27 May.
ADDITIONAL NOTICES AND FOR YOUR DIARY
FANCY A TRIP TO THE SEASIDE?    Our Circuit "Methodist Women in Britain" invite us to join a "relaxing trip to the seaside" on Wednesday 20 June, with a fish and chips lunch at a quayside restaurant, followed by a leisurely trip along the seafront from Tynemouth and Whitley Bay to St Mary's Lighthouse. The cost is £15.   Reservations are required by Wednesday 4 June, and should be sent to Millie Robinson (01434 602044).   A coach will leave Haltwhistle and will pick up in Wylam (outside the Chemist) at approximately 11.20am. The coach will leave Whitley Bay for the return journey at 3.30pm. A poster giving details can be seen on the notice board.
AN INVITATION    We are invited to the 140th Chapel Anniversary Celebrations at Barrasford Methodist Church on Saturday 2 June at 7.00pm, when a Concert will be given by the Stanley Men's Forum Gospel Choir.   The Chair is to be taken by Rev Alan Dawson.   There will be a supper after the concert.   All are welcome.
"JUMP FOR JOY"    We are pleased to report that this event, held last Sunday in the grounds and church hall at St Oswin's, enjoyed a warm, if not very sunny afternoon, and was very well attended.  The event raised a little over £1300 towards the ecumenical children's and youth work of the Wylam and District Churches.  Thank you to everyone who supported the event and particularly those who donated items and/or helped on our toy stall.
CHILDREN'S and YOUTH WORK   Last Sunday, Ruth Lindridge spoke to us about the many activities that she and others are currently involved in, bringing a deeper understanding of the love of Jesus Christ to youngsters within our churches and at Wylam First School.   She also mentioned a number of forthcoming activities which it is hoped will extend the effectiveness of this work.   Leaflets are available setting out all these activities.   If you would like to know more, please pick up a leaflet in the atrium or ask for one.  For those with young families and/or folk willing to help, please remember that this year the Holiday Club, on the theme of "Team Building", will be held between Tuesday 21 and Thursday 23 August – with Monday 21 August for preparations.   Make sure it's in your diary and remember that all of this work needs our prayers.
FOR OUR PRAYERS    As there is space this week, we repeat this important note:-
We should all be aware that Rev Jane Cook will be leaving Wylam and the Tynedale Circuit later this Summer to take up a new appointment in the Sunderland Circuit, with responsibility for churches at Cleadon, East Boldon and Whitburn.   Jane's final service here is expected to be on Sunday 15 July at 10.45am, marked with a special event, more details of which will follow soon.   On 22 July, there will be a special Circuit Service at Corbridge at 6.00pm at which we and the whole Circuit will have the opportunity to again give thanks for Jane's ministry and to say "farewell".
Then, of course, from September, Rev Jenny Porterpryde will formally become our minister.   We are delighted that Jenny, conveniently based in Prudhoe, is already actively getting to know us better.   We were pleased that Jenny was invited to preach at the United Service for Christian Aid at St Oswin's recently and that she will be leading our worship here next Sunday.
We trust that we are all praying for this church and both Jane and Jenny during this time of transition, which is bound to produce new challenges for both ministers and also for the church.   Equally, we trust that everyone will wish to "pull together" to ensure a smooth transition and an exciting future ahead.
ORDINATION   We have been advised that there are four spare tickets left for the Ordination Service of  Rev Alex Dunstan in Chesterfield on Sunday 1 July and also spaces on the coach for travel.   If anyone is interested, please contact Joan Appleby on 01434 322095
CHURCH NOTICES     Please note that, from today, copies of these notices will only be distributed by email to those who have returned a copy of the consent form which has been provided by email several times in recent weeks.  This is in order to conform with the new General Data Protection Regulation (GDPR).  If you would like to join the list of more than 50 people who receive a regular email copy, please ask Brian for a copy of the consent form.  You can, of course, always view a copy of the notices and see other items of interest by going to the church website, the address of which appears at the head of every issue – www.wylammethodistchurch.org.uk
Also – please be aware that during the summer months there are sure to be times when the volume of material for circulation will suggest that an issue covering two weeks would be more appropriate.  This may be without further warning, so please make sure that Brian has information for inclusion at least two weeks ahead but as far in advance as possible.
PRAYER FOOTNOTE    Gracious God, let your presence be felt deep within our soul, disturbing our tranquillity amid violence and injustice.  Remind us that words without actions and churches without a mission are empty entities.  Open our hearts that we might respond to Jesus' call to love and care for our neighbour.  Convince us that every person is made in your image.  Etch upon our minds that when any one of your children is denied dignity, all of us are denied life.   Send your Spirit, O God, to teach us to love as Jesus loved.      Amen    Cathy Wimsatt
Material for the next issue to Brian Japes by 7.00pm on Tuesday at the latest please
Tel: 852151 email:- brian@japesfamily.co.uk