NOTICES FOR THE WEEK COMMENCING
                                                     SUNDAY 11 NOVEMBER 2018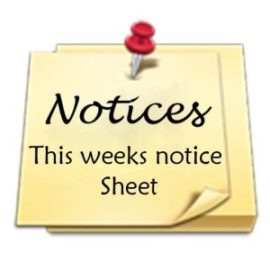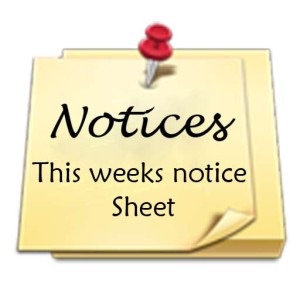 SUNDAY 11 NOVEMBER      Remembrance Sunday
10.00am    We welcome the minister of this church, Rev Jenny Porterpryde, who is to lead our worship
today with Rev Angus Palmer of St Oswin's.
We also extend a very warm welcome this morning to representatives of 3 Regiment Royal Horse Artillery, from Albemarle, to the local uniformed youth organisations and to those from other churches within the Wylam and District Churches and from the wider community, who join us for this special united service.
Following this shortened service, we are all invited to process to the Village War Memorial, where we expect to be joined by many others for the traditional Act of Remembrance at 11.00am.   After this, refreshments will be served here for all who would like to return.   If you wish to remain here rather than going to the War Memorial, you are very welcome to either remain in church or to make yourselves at home elsewhere in the premises until others return.   The congregation is asked to allow the army personnel and other uniformed organisations to leave the church first – and please take an order of service with you for the War Memorial – these will be distributed as you leave.
Collection baskets are located by both exits today for any contributions you wish to make.    Loose cash in the collection (rather than church envelopes) will go to the British Legion Poppy Appeal.
Owing to the form of this shortened service, there will be no Sunday School here this morning.   Crèche facilities are available for any little ones in Room 1(across the atrium), providing there is parental supervision.
If you wish to use the loop system in the church, please make sure that your hearing aid is turned to the appropriate setting.
The flowers today have been provided by Rosalind and Brian Fulthorpe, to whom we are very grateful.
Our Prayer Space now includes a special panel focusing on sacrifice and remembrance.   Do make use of this resource when you have the chance. The panel will remain through November.
The exhibit "Wylam at War 1914-1918", with images and information about Wylam during World War 1, is now on display in the atrium here. You are invited to view the exhibit while you enjoy refreshments.   On Tuesday, the exhibit will be moved to Wylam Library where it can be seen during Library opening hours.
4.00 to 5.30pm   Another "Messy Church" session will take place in the hall here, for young children and families.   This month's theme is "Listening and Learning".   There will be stories, games and craft activities – concluding with tea for the children.    All are welcome.
7.30 to 9.00pm   The Sunday Evening Home Group will meet this evening at the home of the Green family, where study will be a résumé of the "Holy Habits" book and a re-introduction to Nigel King's study based on Colossians.   All are welcome.
MONDAY 12 NOVEMBER
9.00 to 11.30pm    Soft Play sessions continue in the hall, today primarily for pre-Playgroup aged children.
WEDNESDAY 14 NOVEMBER
10.30am (coffee served from 10.10am)    The monthly Men at Home meeting will take place in the foyer, when Peter Ryder will be giving an illustrated talk about "Holy Island.  The Riddle of the Early Churches".   All men will find a warm welcome, just come along.
12 noon   The Bible Lunch Time ("BLT") group will meet again today in Room 1, continuing to look together at and discuss Andrew Robert's book, "Holy Habits".   This week focussing on Chapter 10. "Breaking of Bread".   Please come along at 12.00 noon with a packed lunch and share fellowship, or come for 12.30pm when the study session starts.   All are very welcome – just come along.
8.00 to 9.30pm   The Wednesday Evening Home Group meet again at the home of Bev and Tim Kenny.  This evening looking at and discussing "Dare to Dream", the final chapter of Andrew Robert's book, "Holy Habits".   All are very welcome to come along.
THURSDAY 15 NOVEMBER
1.00 to 3.00pm   Another Soft Play session will be held in the hall, today primarily for babies and toddlers.
FRIDAY 16 NOVEMBER
4.00 to 5.00pm   The Junior Ukulele Group will continue their practice today in Room 1.
SATURDAY 17 NOVEMBER
10.00am to 12 noon    We hope that as many as possible will come here to support the Charity Coffee Morning and Stalls.  There's still time to offer help on the day and, even more, to offer items for the stalls which will include gifts, jewellery, toys and books, and particularly cakes and produce.   Money raised will be divided between the "Teapot Trust" and "HOPWOSC", to provide sewing machines to poor communities in parts of Africa.   Coffee or tea will be served in the foyer and the stalls will be based in the church hall.   Don't forget to invite your friends and neighbours to come along.
5.00 to 6.30pm   "The Hub", for youngsters in school years 4, 5 & 6 will meet again here.
7.00 to 9.00pm   "The Gathering", for year 6 and above, will also take place. Young people in either of
these age groups are welcome to come along for games, activities and refreshments!
SUNDAY 18 NOVEMBER
10.45am    Our worship this week will be a service for all ages, to be led by Richard Porter, from Prudhoe.
7.30 to 9.00pm    The Sunday Evening Home Group will meet again. Venue to be announced next week.
ADDITIONAL NOTICES AND FOR YOUR DIARY
POSADA   The lists are still available to sign if you wish to host the Posada figures for one night during Advent.   Details can be seen on the noticeboard.   Please note that one is a woollen set, and another is breakable – please sign the more appropriate list !!   Also consider neighbours and friends who may be interested and able to host the figures.
PRAYER SPACE – change of theme    As planned, we intend to change the theme of the Prayer Space on 1 December to one of "Advent – God with us".   This will be a celebration of the mystery of God's incarnation into our world – the ultimate condescension.
We would like to develop a collage to reflect this theme and have planned an evening in the upper room to get going on it.  Everyone is welcome – no artistic skills are necessary but any materials, ideas and good sticking abilities are useful.    It will be fun!   So come along from 7.30pm on Tuesday 20 November in the upstairs room.   Also, if anyone has any poems, prayers or scriptures that highlight the wonder of Advent – please let Hilary or Bev know.
GARETH DAVIES-JONES CONCERT    Local singer-songwriter Gareth Davies-Jones will, once again, be performing his "Nine Lessons" Concert here on the evening of Saturday 22 December.   Details are now available and if anyone can help in any way with preparations for the concert please see David Featonby.   Tasks include:- Ticket printing and sales, provision of refreshments, setting up and clearing away.  Thank you.
"TRAIDCRAFT"    We have tried to keep you updated in recent weeks about the future of "Traidcraft", the fair-trade company based in the Team Valley, with which we have been involved as a church for many years.  Press reports this week suggest that the threat of closure has been lifted but only 12 of the current staff of 68 will be retained, plus a further 10 for a transitional period.  The company expect to outsource their warehouse operation, moving away from the Team Valley but hoping to remain in the Newcastle/Gateshead area.   From the New Year they intend to focus on existing customers, stock less craft lines and encourage more cooperative purchases to save on packaging.  However, they are determined to maintain their fair-trading ethic, supporting small producers in poor communities across the world.
PRAYER FOOTNOTE   God of time and history; of present and of future, as we mark a century since the war it was said would end all wars we turn to you for guidance and support.  Help us, in our human frailty, to be the people you would have us be.  May we respond to human need through loving service, bursting through the walls of our institutions to reach out with unconditional love.   Kindle your love within us that we may be your light in the world and channels of your peace.
                                                                                                                            Amen                                     Churches Together in Wales
Information for the next issue to Brian Japes by 7.00pm on Tuesday at the latest please
Tel: 852151 email:- brian@japesfamily.co.uk