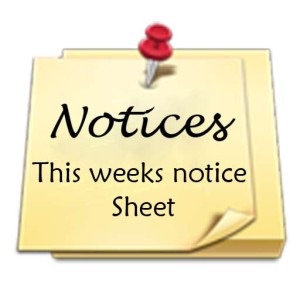 NOTICES FOR THE WEEK COMMENCING
SUNDAY 20 AUGUST 2017
SUNDAY 20 AUGUST
10.45am   We welcome our minister, Rev Jane Cook, who is to lead our Café Style worship this morning, based in the foyer area. We trust that all who can will come along to experience this rather different and less formal style of worship, which might become an occasional feature of what we do.
No Youth Church today, or during the remaining school holidays. However, children are very welcome and resources are available for them to use. Contact a Church Steward if in any doubt. For little ones, Crèche facilities are available (in Room 2 or upstairs today), but these options require parental supervision.
The flowers decorating the premises today have kindly been provided by Anne and Mick Wheelwright, to whom we are very grateful.
If you wish to use the loop system this morning, please make sure that your hearing aid is turned to the appropriate setting.
Refreshments in the form of coffee, tea or juice will be served in the foyer immediately following this service, when it is hoped you will find time to stay for a while, either within the foyer or atrium area.
WEDNESDAY 23 AUGUST
12 noon   The Wednesday "BLT" group will meet once again in Room 1, when they will continue watching and discussing "Amazing Grace". Packed lunches from 12 noon, with the session led by Rev Jane Cook from 12.30pm. All are welcome.
7.00 to 9.00pm   The next informal Wednesday Coffee Evening will take place by kind invitation at the  home of Grace and Ben Rowley.   All are welcome.
FRIDAY 25 AUGUST   We are invited to a Coffee Morning at Fourstones Methodist Church, where there will be tea/coffee plus sandwiches and a sweet, available between 10.00am and 1.00pm. Proceeds are for their church funds.
SATURDAY 26 AUGUST
10.30am to 12 noon    Coffee/Tea will be served in the foyer for all who wish to come along.
SUNDAY 27 AUGUST
10.45am   Our worship today is to be a local arrangement service in the form of "Songs of Praise". It is expected that the choice of hymns/songs will have been made by now but if you wish to enquire or to offer to help with any other aspect of the service, please speak to David Featonby.
ADDITIONAL NOTICES AND FOR YOUR DIARY:-
CONGRATULATIONS    August was clearly a busy time 50 years ago as we offer congratulations and best wishes to another couple, this week to Ruth and Colin Smith, who celebrate their Golden Wedding Anniversary on 26 August. Many will remember Ruth and Colin who worshipped here for many years before moving to Alnwick, although still in regular contact with us and occasional visitors here. They were married at Bridge Street Methodist Chapel, Hereford, by Rev David Hewitt and Rev Wilfred Pile, Ruth's uncle. "We'll praise Him for all that is past and trust Him for all that's to come".
HELP REQUESTED    With September fast approaching and the re-start of many activities here, including "Soft Play" sessions, it's time to get the Soft Play equipment cleaned and ready to go again! If you are able to help on Thursday, 24 August, just come along any time from 9.30am for whatever time you can spare. Hopefully, with reasonable help, the task should be finished by lunchtime.
"CREATING SAFER SPACE"   Many of us have the necessary Safeguarding Certificate under this title but we are reminded that the Certificate now has to be renewed every FOUR years!  Two refresher courses are planned; Monday 11 September at Haltwhistle Methodist Church at 7.00pm and Saturday 23 September at Hexham West End Methodist Church at 10.00am.  Both session will be run by Anne Lambert, Circuit Safeguarding Adviser. To book a place, please contact Kathleen Armstrong, Circuit Administrator, on 01434 684 207 or by email to kathleenoffice50@gmail.com
We are reminded that in addition to ministers, this course is mandatory for anyone working with children and young people or vulnerable adults in the church, Church Stewards, Pastoral Visitors, Local Preachers, Worship Leaders and Church Safeguarding Officers.
AN INVITATION  As part of their Harvest Celebrations, there is to be a Musical Evening with "Brothers Gillespie" at Fourstones Methodist Church on Monday 11 September at 7.00pm.   This group, who have played at many local and national festivals, perform Traditional Folk Songs (guitar, fiddle, mandolin and shruti box.)  Admission £6 (includes refreshments). Tickets from 01434 674 207 or 01434 674 308. All are welcome. Please refer to the poster on the notice board for full details.
"MEN AT HOME"   These monthly meetings commence again in the foyer here on Wednesday 13 September, when Professor Roger Francis will be talking about "Osteoporosis in Men". A full and interesting programme has been arranged for the coming year and copies of this programme are available in the foyer, (on the bookcase to the right of the Chapel Lane entrance.) Please take one for yourself and/or pass a copy to any men you think might be interested.
HARVEST FESTIVAL   This year, the United Harvest Festival for the Wylam and District Churches is due to take place at St Oswin's Church on Sunday 24 September. As reported previously, the new Priest in Charge at St Oswin's will now be sharing also with St Mary the Virgin Church at Ovingham. For this reason, instead of a joint service at 10.00am, as has been our practice in the past, this year the service will commence at 11.30am.  (Not, we assure you, intended as an excuse for a lie-in!)  Please make a note of this service and time.
BUILDING ISSUES At the time of writing, the following situation remains unchanged since last week and so this note is repeated:-
In a few weeks time it will be 12 months since the last details of our building developments were completed and the "Completion Certificate" signed. It is at this point that our final payment to the main contractor will become due and by which any defects ("snagging items") should be corrected. Our architect and electrical & mechanical consultant have both carried out assessments and a very short list of relatively minor defects has been prepared. There may be some disturbance when work is undertaken and this is most likely to affect the foyer, where there are, not too surprisingly, a few issues with the plaster (where this had to be replaced) and the decoration.  At the time of writing, the on-going problem with the door-closer to Room 1 is one other issue, still to be resolved!
PRAYER FOOTNOTE:-   God of yesterday, we thank you, for you have been with us through the good and the bad, even when we have not recognised you.
God of today, we see your presence now; help us to open our eyes and look in the right places.
God of tomorrow, we trust you for what is to come; give us the confidence to follow in your way.
God of all times and all places, each new day is yours; renew our lives day by day in your service, for Christ's sake.
          Amen                                  Graham Carter
Material for the next issue to Brian Japes by 7.00pm on Tuesday at the latest please
Tel: 852151 email: brian@japesfamily.co.uk