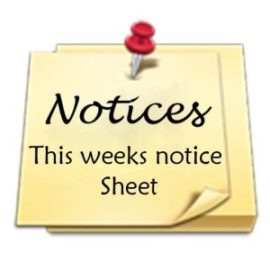 NOTICES FOR THE WEEK COMMENCING SUNDAY 24 MARCH 2019
SUNDAY 24 MARCH
10.45am We extend a very warm welcome to Rev Elaine Lindridge, Newcastle District Evangelism Enabler, who is to lead our worship this morning.
Children are invited to come into church for the first part of this service but will shortly leave for their own Sunday School session. If there are any little ones for whom a Crèche is more appropriate, facilities are available in Room 1, (across the atrium), providing there is parental supervision.
A final reminder that we are now invited to place our offering, envelopes or cash, when coming into church in a plate which you should find at the back of the church. The offering plate will be brought forward for dedication during the service. (This decision reflects the fact that so many people now make their regular contribution for the work of the church by Standing Order rather than in cash/envelope each Sunday.)
If you wish to use the loop system, please turn your hearing aid to the appropriate setting.
The flowers in the church today, for which we are very grateful, have been provided by Robert and Daphne Helm in memory of Robert's father, Harry Helm.
Please stay if you can for coffee, tea or juice, which will be served in the foyer immediately after this service.
MONDAY 25 MARCH
9.00 to 11.30am   Soft Play sessions continue in the hall, today primarily for pre-Playgroup aged children.
7.30pm  Hilary King and Bev Kenny will be meeting this evening at Bev's home, to paint the wooden crosses and add the words collected during last week's service.  If anyone would like to come and help with this simple, and hopefully fun task, just come along.   If anyone didn't get a chance to add words to reflect their thoughts about what Jesus dealt with on the cross for us, e.g; our fear, resentment, unforgiveness etc.., blank crosses will be available at the prayer space today.
TUESDAY 26 MARCH
2.30pm   The Women's Fellowship will meet again in the foyer, when Maureen Chapman, from Hexham, will be giving a "Reflection on Mary Magdalene".    All ladies are very welcome – just come along. Refreshments will be served after the meeting.
WEDNESDAY 27 MARCH
1.30pm (for refreshments) and then from 2.00 to 3.30pm.   Afternoon sessions for the Lent Study continue in the foyer.  The theme for this third session is ""New Life in Us".   See below for further details.
7.00pm (for refreshments) and then from 7.30 to 9.00pm: Evening sessions for the Lent Study continue in the foyer this evening and for the next two weeks. It is hoped that as many as possible will try to come along. This week the focus is on "New Life in Us".  Details of each week's study can be found on the Tynedale Circuit website – go to www.tynedalemethcircuit.org and click on 'Lent Course 2019'.  It will be helpful if as many as possible can access this site and print a copy of the material for each week.  If you wish to take part but are unable to attend a group, you can also access a blog relating to the theme via the same website link.
THURSDAY 28 MARCH
1.00 to 3.00pm   A Soft Play session will take place in the hall, today primarily for babies and toddlers.
SATURDAY 30 MARCH
8.15 for 8.30am   The next "Perspectives Men's Breakfast" will be held at Vallum Tea Room.  This month's speaker is to be Richard Mayland, talking about "Debt Saviours".   After a wide-ranging career in accounting and public health, Richard has, since 2017, been manager of the Newcastle West Debt Centre, run by Christians Against Poverty.   Booking is essential for these meetings. (£10 full breakfast, £8 for Continental). Speak to Brian Japes for more information or if you would like a lift.
10.00am to 12 noon   Today is our very special "Easter Coffee Morning" from which proceeds will go to voluntary youth organisations in the village, e.g. Brownies, Scouts etc.  There will be stalls for cakes, crafts and toys/books and maybe more.  Donations will be gratefully received.   Please speak to Anne or Brenda, who have generously organised this event, if you might be able to help.  Do come along and support this event, whether you are helping or not.
2.30pm   The Spring Lecture to the North East Methodist History Society will take place at Allendale Methodist Church.  Roger Morris will be speaking about "The Allen Valleys and Methodist Heritage".  Please refer to the notice board for full details including cost and booking arrangements.
7.00pm   We are invited to a Concert by Hexham Male Voice Choir, to be given this evening at Acomb Methodist Church.   Tickets are £8 and can be paid for at the door.
SUNDAY 31 MARCH
10.45am   Our worship on this Mothering Sunday is to be led by our minister, Rev Jenny Porterpryde.
ADDITIONAL NOTICES AND FOR YOUR DIARY
TWO PRAYER EVENTS THIS WEEK   "Thy Kingdom Come" is an initiative encouraging churches to participate in seeking transformation in our local communities.  To assist with this, two "Inspire & Equip" events are taking place in the North East, with Brian Heasley, International Prayer Director for "24-7 Prayer" and Phil Togwell, "Prayer Spaces" Co-ordinator.
These events are as follows:  Wednesday 27 March, 7.00 to 9.00pm at Stockton Parish Church, TS18 1SP and Thursday 28 March, 10.00am to 12 noon at St James URC Church, Northumberland Road, Newcastle, NE1 8JF.   For more information go to https://bit.ly/2TFvM9m
ARE YOU COMING?   A now urgent reminder that Brenda Newbegin would like to know numbers and any offers of food if you plan to attend the Featonby "Golden Celebration", following the service here on Sunday 7 April.   There's a list on the notice board today for you to indicate your intention.
CONCERT INVITE   We are invited to a Concert at Haydon Bridge Methodist Church at 7.30pm on Saturday 6 April, by Hexham Brass. Admission, which includes a supper, is £6.
ANOTHER CONCERT   Our Women's Fellowship have recently heard all about the "Daft as a Brush –  Bluebell Bus" Charity, and here's a way to support that effort.   We are invited to a Choir Workshop and/or Concert with "Bede Wind", in Trinity Church, Gosforth on Saturday 27 April. Vocal rehearsals are at 2.00pm and the evening concert at 7.00pm.   Cost is £4 for vocalists and £6 for those attending the Concert.   For details you can go to www.bluebellbus.org.uk or phone 0191 285 1919.
See the poster on the notice board.
MARJORIE WARWICK   We are pleased to hear that Marjorie, who recently moved into a home in Ponteland, is now settled there and plans to remain. She has asked that her address and mobile phone number are made known to friends at church and these can currently be seen for a limited time on the notice board in the atrium.
HOLY WEEK SERVICES   Easter is very late this year but you may wish to note in your diaries that there will be a Communion service here at 7.30pm on Maundy Thursday, 18 April, and a short service at 9.30am on Good Friday, 19 April, before we join friends from St Oswin's for our usual act of public witness at 10.00am, gathered around the cross at Charlie's Corner.
NOW AVAILABLE   Copies of the new Tynedale Circuit Plan for April to June and the Spring issue of "Living Waters", the Circuit Magazine, are now available and we hope that people will help themselves to copies, which can mostly be found either on the table or magazine rack in the atrium.
CHRISTIAN AID    Can you spare an hour or so on Tuesday 9 April from 1.30 pm onwards in the Institute to help Susan McLean count out envelopes for collector's bags in preparation for this year's Christian Aid week?    Tea, coffee and biscuits available to sustain! Thanks, Susan McLean.
PRAYER FOOTNOTE    Gracious Father, your love knows no limits. Fill our hearts with your compassion, open our eyes to your presence in the world, enlarge our minds to understand your will. Take our hands and minister through them. Speak our words and direct our feet in the paths of peace, that Christ may be revealed in us and the world may believe.       Amen      David Reddish
Material for the next issue to Brian Japes by 7.00pm on Tuesday at the latest please
Tel: 852151 email:- brian@japesfamily.co.uk