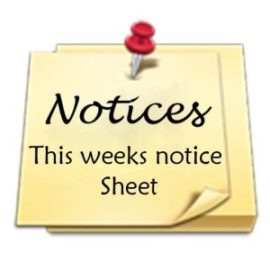 NOTICES FOR THE WEEK COMMENCING SUNDAY 19 MAY 2019
1250th issue!!
(by current compiler)
SUNDAY 19 MAY
10.45am   We welcome Mark Knowles, from Henshaw, who is to lead our "Whole Church Celebration" this morning, with some assistance from members of the congregation.
It is assumed that children will remain in church for this service but, if there are any very little ones for whom Crèche facilities would be more appropriate, these are available in Room 1, (across the atrium), providing there is parental supervision.
If you wish to use the loop system, please turn your hearing aid to the appropriate setting.
Please stay if you can for coffee, tea or juice, which will be served in the foyer immediately after this service.
From 12 noon to 3.30pm (approx.)   Today is, of course, "Jump for Joy", based as usual in the grounds and Church Hall at St Oswin's.   Proceeds from this event are a major contribution to support the joint Children's and Youth Work of the Wylam and District Churches, and so we hope the event will receive our widespread support.   This church is responsible for the toy and jigsaw stall, so if you have anything suitable to donate, at this stage, please just bring it along.   In addition to the exciting Teddy Bear Parachute Jumps from the church tower there will be the usual barbecue, lots of games and stalls, Wylam First School Choir, the Sunshine Panners Steel Band, afternoon teas and lots more!
10.00am to 4.00pm    A reminder of the Horsley Church Open Weekend, which concludes today, with "The Hearth" Studios also open.  In the church there's a display of original postcards designed by artists, friends and trustees of "The Hearth", church and village members.  Please refer to the several posters relating to this event, which you can see on the notice board.
MONDAY 20 MAY
9.00 to 11.30am   Another Soft Play session in the hall, today primarily for pre-Playgroup aged children.
WEDNESDAY 22 MAY
12 noon   The Bible Lunch Time ("BLT") group will meet again in Room 1, continuing the "Talking Jesus" course.    Please come along at 12.00 noon if you wish with a packed lunch and share fellowship, or come for 12.30pm when the study session starts.   All are very welcome – just come along.
2.00pm    The Methodist Women in Britain, Easter Offering Dedication Service, will take place at Stocksfield Methodist Church.  The theme of this service is "Longer Tables, Lower Fences".   Speaker:- Rev Marie Beard. All are welcome, men and women!
8.00pm   The Wednesday Evening Home Group meets again this evening at the home of Bev and Tim Kenny, continuing studies from "Talking Jesus".   All who are interested are very welcome to come along.
THURSDAY 23 MAY
7.00am to 10.00pm    Please note that, once again, this time for the European Elections, our premises are in use as a Polling Station. Polling will only take place in Room 1 and normal activities will continue in other parts of the building. However, anyone supervising children is reminded that there will be frequent visitors using the front entrance and those doors will therefore be open more than usual.
1.00 to 3.00pm  Another Soft Play session in the hall, today primarily for babies and toddlers.
7.00 to 9.00pm   A reminder that a Creating Safer Space, Foundation Level Refresher Course, takes place this evening at West End Methodist Church, Hexham.   Updating of Safeguarding training is required every 4 years.   If you are interested, see if there's still a place available by contacting Kathleen Armstrong, Circuit Administrator.
FRIDAY 24 MAY
3.45 to 4.30pm   Another practice session today in Room 1 for the Junior Ukulele Group.
SATURDAY 25 MAY
10.30am to 12 noon   Coffee/Tea will be served in the foyer if you care to drop in for refreshments.
11.00am to 2.00pm   Friends at Keenley Methodist Church, invite us for a lunch of pies, peas and trifle at a cost of just £6.   There will also be a cake stall.  So, if you fancy a drive into the countryside south-west of Haltwhistle and a visit to a church dating back to 1750, arguably the oldest Methodist Church still in regular use, here's your chance!
SUNDAY 26 MAY
10.45am    Our worship this week is to be led by Brenda Mearns, from Corbridge.
Please note that to avoid this Bank Holiday weekend, the Sunday Evening Home Group will next meet at 7.30pm on Sunday 2 June, when the venue will be the home of the Histon family.
ADDITIONAL NOTICES AND FOR YOUR DIARY:-
CHRISTIAN AID   Thank you to all who have helped this week with the house-to-house collection for Christian Aid and, of course, to everyone who has contributed.   The collection taken at this church for Christian Aid last Sunday was £170.70, which will of course add to our village total.
PRAYER INITIATIVE    The Wylam and District Churches Prayer Initiative is now under-way, committed to offering prayer for a different area each month around the village, along with a wider theme.  This month our prayers are for the Holeyn Hall Road and "Hedley Meadows" area and for Health and Well-being, particularly today for Care Homes.   Although it is expected that there will be prayers within our churches, everyone is encouraged in their regular prayers during May, to remember this area and the wider theme.
HOLIDAY CLUB   Those in church last Sunday will know that Ruth Lindridge, our Wylam and District Churches Children's and Youth Worker, made a request for help from anyone willing to assist, even if just with their ideas, in the planning process for this year's Holiday Club.   The idea is to meet together for a short time after church on either 9, 16 or 30 June.   If you missed the chance to give Ruth your name, contact her and say which Sunday (or Sundays) you can be available to meet.   The Holiday Club theme this year will be "Waste Watchers" and the dates – Tuesday 13 to Thursday 15 August.  We do hope that Ruth will receive the help she is asking for.
LOOKING AHEAD   Our Church Annual General Meeting (for the whole congregation) will follow a shortened service here on Sunday 7 July. Also on this day, the Sunday School are inviting everyone to stay and enjoy lunch with them afterwards.   More details nearer the time but please make a note of this in your diaries.
CHURCH NOTICES   With a little free space this week, I hope that readers will forgive some personal reminiscence prompted by a headline at the top of this week's issue.   Printed notices at this church were started by John Ord in the 1980's and continued by Alan Hunter when John and Joyce moved away.   Very few copies from this time have been retained – unless you know otherwise?   My first issue was 5 August 1990, recommending people to visit the churches display at the National Garden Festival in Gateshead.   We were also still raising money for a building fund following a major project, probably the first of significance since the 19th Century. October 1991 saw the first two-sided issue.   By the 250th issue in early 1997 we were discussing how to help the children from Chernobyl, holding "Pause for Prayer" in church at 7.30am every Friday and anticipating our minster, Rev Richard Firth, going on sabbatical.   The 500th issue in November 2002 announced that we had filled 22 'shoeboxes' of gifts for "Operation Christmas Child".   The 750th issue in June 2008 saw us raising money for "Water Aid" and by January 2014, in the 1000th issue, the Wylam and District Churches were seeking a new Youth and Children's Worker and encouraging support for the Food Bank collection. With available copies now covering nearly 30 years, it could be said that they form an interesting archive of church life.   Hopefully the current compiler will be redundant by issue 1500!!     Brian.
PRAYER FOOTNOTE Give us O Lord, a stout heart to bear our own burdens, a tender heart to bear the burdens of others and a believing heart to lay our burdens on you.    Amen    Lesslie Newbigin
Material for the next issue to Brian Japes by 7.00pm on Tuesday at the latest please
Tel: 852151 email:- brian@japesfamily.co.uk