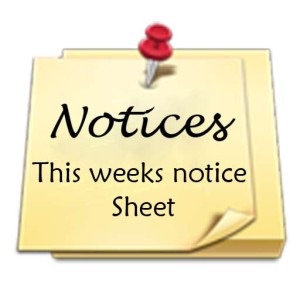 NOTICES FOR WEEK COMMENCING SUNDAY 30 APRIL 2017
SUNDAY 30 APRIL
10.45am  We welcome "our own" Graham Wilson, who is to lead our worship this morning.
Many of our congregation are at Keswick this weekend for the second of two church breaks, based at the Convention Centre there. We do hope they will be enjoying a happy time of fellowship and recreation by the time we meet for our own worship today.
If anyone still has an 'Easter Offering' envelope, or wishes to pick one up today to contribute to the Methodist Church World Mission Fund, please return it with your contribution on the collection plate today. This is our final opportunity to respond to this appeal.  The service at which the collection within this Circuit will be received and dedicated, will be held at Haydon Bridge Methodist Church at 2.30pm on Wednesday 17 May.
Copies of the current two-week part of the Circuit Prayer Initiative, "Growing Men of God", were distributed or emailed last week. A few spare copies are available if you missed out for any reason.
It is expected that many of our children and their leaders will be away at Keswick, or elsewhere, this Bank Holiday weekend and so there is no planned Youth Church today. DIY resources are available for use in Room 1, with parental supervision, and where Crèche facilities are also available if required.
We are very grateful to Ellen Lancaster, who has very kindly provided the flowers that are decorating the church today.
If you wish to use the loop system in the church, please make sure that your hearing aid is turned to the appropriate setting.
Refreshments in the form of coffee, tea or juice will be served in the foyer immediately following this service when it is hoped you will find time to stay for a while, either within the foyer or atrium area.
Please note: No Sunday Evening Home Group this evening.
MONDAY 1 MAY
Bank Holiday of course, so no Soft Play today. Sessions continue as usual from Thursday.
The Bank Holiday Methodist District Walk will start and finish today at St Cuthbert's Methodist Church, Heaton Road, Newcastle upon Tyne (NE6 5HE). This is described as an easy 5 mile walk, with coffee tea served from 10.00am, walk to start at 11.00am and finishing with refreshments and a short service at about 3.00pm. Bring a packed lunch (toilets at the start/finish and picnic site!)
No Junior Ukulele Group meeting this week.
TUESDAY 2 MAY
2.30pm   The Women's Meeting (Methodist Women in Britain) will meet again in the foyer, when Judith Oldroyd, who is District President, will be talking about Nepal, a country for which money is still being raised this year, continuing the help needed following the terrible earthquake there. All ladies will find a warm welcome. Refreshments will be served at the close.
WEDNESDAY 3 MAY
12 noon   The monthly Lunch Club will take place in the foyer for those who usually attend. If you wish to join the group, please contact Anne Featonby
7.30pm   The Wednesday Home Group has arranged a special 'one-off' meeting this evening and invites everyone to the foyer here, to see a very powerful and moving new film presentation of the Easter story, told through the eyes of the tribune tasked with finding the missing body of Jesus.  The film is rated 12 years and above and lasts 1 hour and 45 minutes.  Light refreshments will follow.  All are welcome – an opportunity not to be missed!  Please note the earlier start time than the normal Home Group.
THURSDAY 4 MAY   Local Elections Day today, so please remember that our premises are in use as the Wylam Polling Station, although our own and other activities will continue as usual.
1.00 to 3.00pm   A "Soft Play" session will take place in the hall, today primarily for babies and toddlers.
SATURDAY 6 MAY
10.30am to 12 noon   Coffee/Tea will be served in the foyer for all who wish to come along.
5.00 to 6.30pm   "The Hub", for youngsters in years 4 & 5 will meet in the hall.
7.00 to 9.00pm   "The Gathering", for school year 6 and above, will take place in the hall. Young people in these age groups are very welcome to come along for games, activities and even food!
SUNDAY 7 MAY
10.45am   Our worship is to be led by our minister, Rev Jane Cook. This service will include Holy Communion.
Our Annual Church Meeting will take place in the church immediately following this service, when it is hoped that as many as possible will stay to take part in discussion about the vision for the church over the next 12 months and beyond. To enable this discussion, reports from the groups within the life of the church will only be presented if supplied in a written form to Louise Histon prior to the meeting. Those concerned with these reports should have received advice about this – so this is a reminder!
8.00 to 9.30pm   The Sunday Home Group will meet this evening at the new home of the Favraud family, when all will be welcome. This evening, Chapter 19 of "The Story".
ADDITIONAL NOTICES AND FOR YOUR DIARY
CHRISTIANS IN SCIENCE    The Northern Area 'Christians in Science' Conference will take place on Saturday 13 May 10.50am to 4.50pm.   The theme, to be presented by six eminent speakers from a cross-section of medical science is, "Playing God? Research, Ethics and Practice in Modern Medicine". Full details can be seen on the notice board. To book, go to cis.org.uk
CHRISTIAN AID WEEK 14-20 MAY    This year's Christian Aid Week is getting closer, including the usual house–to–house collection. It is assumed that collectors will have been identified and contacted by now but, should this not be the case, please let either Jane Cook, or Susan McLean know as soon as possible.
UNITED SERVICE   The United Christian Aid Service for the Wylam and District Churches will be held here this year, on Sunday 14 May, commencing at 10.00am, the usual earlier time for our united services. Please note this date and time.
reImagine FORUM   This event is a day for those interested in revitalising and starting churches. It will take place at Brunswick Methodist Church, Newcastle, 9.30am to 3.30pm on Saturday 20 May.   For details, please refer to the poster on the main notice board. It's free of charge but booking is required – elaine@lindridge.org.uk
BIG QUESTIONS – ANY ANSWERS?   This is the theme of a series of events being held in various venues in the Tyne Valley, including one here on 24 May, in which eminent scientists will be giving a Christian perspective on topical science issues. A full list of the dates, topics, speakers and venues can be seen on the main notice board. Details will also appear here nearer each event.
PRUDHOE GLEEMEN    The Annual Concert of the Prudhoe Gleemen, who have helped our fund raising on a couple of occasions recently, will take place in the Performing Arts Centre of the Royal Grammar School on Saturday 20 May at 7.00pm, with young guest soloists from the Samling Foundation. Tickets are £8 and coach transport from Prudhoe, for anyone not wishing to drive into town, can be arranged for a further £4.50. Please contact Brian Japes if you are interested.
NOTICES   For the benefit of those going to Keswick this weekend, these notices will be sent out earlier than usual to those receiving them by email. Please note that, for personal reasons, earlier distribution will also apply next week. It would help if any details for inclusion are sent earlier to Brian!
PRAYER FOOTNOTE:– God my defender, protect and hold me with your shield of security. God my interpreter, make your word and your will plain. God my Saviour, save me from myself, forgive me all my sins, cleanse and renew me.   Amen      Olive Wimble
Material for the next issue to Brian Japes by 7.00pm on Tuesday at the latest please
Tel: 852151 email: brian@japesfamily.co.uk