NOTICES FOR THE WEEK COMMENCING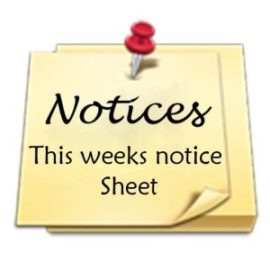 SUNDAY 13 JANUARY 2019                                      
SUNDAY 13 JANUARY
10.45am   We welcome Tom Dodds, from Hexham, who is appointed to lead our worship this morning.
Children are invited to come into church for the first part of this service before leaving for their own Sunday School session.  Crèche facilities are available for any little ones in Room 1, (across the atrium), providing there is parental supervision.
We are very grateful to Robert and Daphne Helm for the flowers in church today, given in memory of Robert's mother, Mary Helm.
Please stay for a while if you can for coffee, tea or juice, which will be served in the foyer immediately after this service.
4.00 to 5.30pm    The next of the monthly "Messy Church" sessions for younger children will take place in the hall.  Please make this widely known to families with young children that you know.  As always there will be games, craft activities, stories and food for the children.
7.30 to 9.00pm    The Sunday Evening Home Group will meet this evening at the home of the Green family.  This week the group plan to discuss Nigel King's second sermon from his series based on Paul's Letter to the Colossians.  Contact John Green for details of that sermon if you don't have them already.  All are welcome to come along.
MONDAY 14 JANUARY
9.00 to 11.30am   Soft Play sessions continue today in the hall, today mainly for pre-Playgroup aged children.
7.30 to 9.30pm   Anyone interested in exploring the basics of the Christian Faith in a friendly, open and informal environment is reminded that an "Alpha Course" commences this evening and for 12 weeks at Trinity Methodist Church, Hexham.   Please refer to the details which can be seen on the main notice board.   To book a place, contact John at the church office either on 01434 601055 or email to  alpha@hexhamtrinity.org.uk
TUESDAY 15 JANUARY
2.30pm   A new programme of the fortnightly Women's Fellowship begins today in the foyer, when Jacqui Cameron, from Stocksfield, is to be the speaker.  All ladies will find a warm welcome. Refreshments will be served after the meeting.
WEDNESDAY 16 JANUARY
8.00 to 9.30pm   The Wednesday Home Group continues this evening at the home of Bev and Tim Kenny.  This group is now beginning a study of the final chapters of John's gospel, starting this week with chapter 14.  As always, all are warmly invited to come along, whether or not you have attended previously.
THURSDAY 17 JANUARY
1.00 to 3.00pm   Another Soft Play session will take place in the hall, today primarily for babies and toddlers.
FRIDAY 18 JANUARY
4.00 to 5.00pm  The Junior Ukulele Group will resume practice today in Room 1. Please speak to David Featonby if you would like to join in or have any queries.
SATURDAY 19 JANUARY
10.30am to 12 noon   Coffee/tea will be served again in the foyer for anyone able to call in for a while.
5.00 to 6.30pm   "The Hub", for youngsters in school years 4, 5 & 6 will meet again here.
7.00 to 9.00pm   "The Gathering", for year 6 and above, will also take place.   Young people in either of these age groups are welcome to come along for games, activities and refreshments!
SUNDAY 20 JANUARY
10.00am    Please note the time and also that there will not be a service in this church today.
This Sunday, within the Week of Prayer for Christian Unity, (which is actually between 18 and 25 January) we will be joining our friends at St Oswin's for a united service of the Wylam and District Churches.   (Please ignore the information in our own Circuit Plan for this date, which is incorrect.)
7.30 to 9.30pm  The Sunday Evening Home Group will meet again this evening, this week at the home of Brenda and David Newbegin.
ADDITIONAL NOTICES AND FOR YOUR DIARY
PRAYER SPACE    The Prayer Space in the atrium is now in the process of changing to the theme of "New Beginnings", but please remember that this theme is very much a "DIY" one, for which we are all invited to contribute material. We can contribute prayers, verses, meditations and pictures – and these are just examples.  Hilary King or Bev Kenny will be only too pleased to help or advise if you require assistance in preparing or displaying items. Please don't hesitate to ask.
SOME EVENTS COMING UP   These events will be given more space and detail shortly but you might wish to note:-
Saturday 26 January The next Perspectives Men's Breakfast at the Vallum Tea Room.  8.15 for 8.30am.  Speaker David Flavell – "Away Goals Count Double". David is now minister at "The Point", Hexham, which he describes as a church designed for people who don't go to church!  See the notice board for more details.
Monday 28 January at 8.00pm at West End Methodist Church, Hexham – Another "Vision" evening – an hour of worship songs, word and prayer, with live music, hot drinks and cake!
Monday 4 February 7.30pm at Haydon Bridge Methodist Church, "Life on Fair Isle", a talk by Hannah Bell about life and the wildlife on Britain's most remote inhabited island.  See the notice board for more details.
PUBLICATIONS   In addition to copies of the Circuit Plan for the current quarter and of the Winter issue of "Living Waters", the Circuit magazine, there are now copies of the updated issue of our own information booklet and leaflets outlining the activities and events offered for youth and children by the Wylam and District Churches.  These have been widely distributed at church over recent weeks but please help yourself to further copies from the atrium display rack, to pass to neighbours, friends or anyone else you think might be interested.
"NOTICES" NEXT WEEK   As we will be worshipping at St Oswin's next Sunday, it is hoped that the usual distribution of notices by email prior to the weekend will still take place.  Brian will try to have a few 'hard copies' at this service, but please ask for a copy if required.  A few copies will be left on the table in the atrium here.
PRAYER FOOTNOTE    God who loves us and calls us to love: from hardness to divine compassion, transform our hearts; from heaviness to holy joy, transform our souls; from prejudice to eternal truth, transform our minds; from fear to faithful courage, transform us in strength; that we might love our neighbour, witness to your Son and grow in your Spirit.   Amen       Andrew Lunn
Material for the next issue to Brian Japes by 7.00pm on Tuesday at the latest please
Tel: 852151 email:- brian@japesfamily.co.uk