NOTICES FOR THE WEEK COMMENCING
                                                     SUNDAY 21 OCTOBER 2018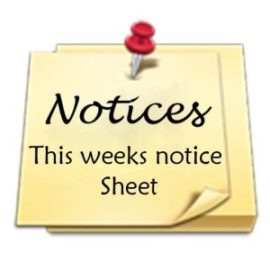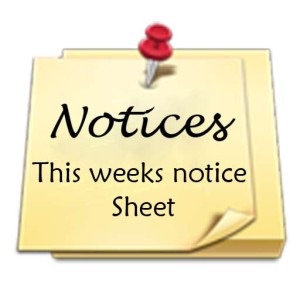 SUNDAY 21 OCTOBER
10.45am    We once again welcome Nigel King, who is to lead our worship this morning.   This service
continues the theme based on Paul's Letter to the Colossians, which Nigel has been following for us over recent months although, of course, there is no expectation or requirement for us to have been here on the previous occasions!
Children are invited to come into church for the first part of this service but will soon leave for their own Sunday School.   Crèche facilities are also available for any little ones, in Room 1, across the atrium, providing there is parental supervision.
If you wish to use the loop system in the church, please turn your hearing aid to the appropriate setting.
The flowers decorating the church today have very kindly been provided by Barbara Brooks, to whom we are very grateful.
We do hope that as many as possible will stay for coffee, tea or juice, which will be served in the foyer after this service. Do stay for a while if you can.
7.30 to 9.00pm   The Sunday Home Group will continue their meetings this evening, but please note that, contrary to information available last Sunday, the meeting this week will take place at the home of the Histon family.   This evening, looking at chapter 15 of Andrew Roberts' book, "Holy Habits" – "Gladness and Generosity".   All are welcome.
MONDAY 22 OCTOBER
9.00 to 11.30am    Soft Play will be held in the hall again, today primarily for pre-Playgroup aged children.
TUESDAY 23 OCTOBER
2.30pm   The Women's Fellowship will meet again in the foyer, when Lyn Jamieson, who is Chaplain to the Metro Centre, will be speaking about her work there.   All ladies are warmly invited to come along.  Refreshments will be served immediately after the meeting.
7.30pm   A meeting of our Church Council will be held in the foyer.   Members should have received copies of the agenda and several written reports by now.  Any apologies for absence should be given to the Church Council Secretary, Louise Histon.
WEDNESDAY 24 OCTOBER
12 noon   The Bible Lunch Time ("BLT") group will meet again today in Room 1, continuing to look together at and discuss Andrew Robert's book, "Holy Habits".  This week focussing on Chapter 9. "Fellowship".   Please come along at 12.00 noon with a packed lunch and share fellowship, or come for 12.30pm when the study session starts. All are very welcome – just come along.
Please note that the Wednesday Evening Home Group are taking a break this week, but will be meeting again next week, for a shared meal together as they consider, quite naturally, the "Holy Habit" of "Eating Together", the subject of chapter 14.  This meal will be at 6.30 for 7.00pm. (Yes, the group do know it will be half term, when they usually don't meet!)
THURSDAY 25 OCTOBER
9.30am to 4.00pm   Please be aware that the Circuit Leadership Team will be meeting here, in the foyer, for most of today.
1.00 to 3.00pm   A Soft Play session will take place in the hall, today primarily for babies and toddlers.
FRIDAY 26 OCTOBER
Please note that the Junior Ukulele Group are taking a break today and over half term but will resume their meetings on Friday 9 November.
SATURDAY 27 OCTOBER
10.30am to 12 noon   Coffee or tea will be available again in the foyer.   All are welcome if you would like to call in for refreshments and a chat at any time.
SUNDAY 28 OCTOBER
10.45am   We look forward to welcoming our minister, Rev Jenny Porterpryde, who is to lead our "Whole Church Celebration" service this week.   Please remember that clocks should have gone back one hour by this morning; we would not like you to be here too early!
7.30 to 9.00pm   The Sunday Evening Home Group is expected to meet again.  Watch this space for confirmation and location.
ADDITIONAL NOTICES AND FOR YOUR DIARY:-
REMEMBRANCE SUNDAY   Do remember the plan to add an extra section to the Prayer Space by Remembrance Sunday, 11 November, and focusing on sacrifice and remembrance.  If you have any ideas for prayers, poetry, images or scripture for this, please let Bev Kenny or Hilary King know as soon as possible.
CHRISTMAS COFFEE MORNING AND STALLS    At the Christmas Charity Coffee Morning on Saturday 17 November, 10.00am to 12 noon, there will be stalls for cakes and produce, gifts, crafts, books and toys.  If you are able to offer any items for these Anne Featonby or Brenda Newbegin would appreciate knowing.  They would also be grateful for offers of help to man stalls.  Money raised this year will be divided between the "Teapot Trust" and "HOPWOSC", to provide sewing machines in Africa.
METHODIST WOMEN    The Newcastle District Methodist Women in Britain invite everyone to Brunswick Methodist Church on Wednesday 7 November, for a service of dedication for President Designate, Rev Marie Beard and President, Gillian Patton.   Coffee will be served from 10.00am, service, including Holy Communion, at 10.30am, at which the preacher is to be Rev Stuart Earl.   A "faith lunch" will follow.   Full details can be seen on the notice board.
"THE HALF-SHILLING CURATE" is the title of a book by Sarah Reay, which is described as a personal account of War and Faith in 1914-1918. Sarah will be presenting this story at Corbridge Methodist Church on Thursday 8 November at 7.00pm.   At the end of the evening she will be signing copies of the book, available at a discounted price.   Admission is free, but donations and profit from sales will go to the Royal British Legion Poppy Appeal.   Light refreshments will be available.
NOTICES BY eMAIL    Brian is very grateful to all those who took the trouble to provide feedback as to their preference for the format in which they receive copies of these church notices.  In future, until is is clear that everyone can open in the "pdf" format, which many clearly prefer, they will be sent out in both "pdf" and "Word doc." formats and you can choose which you open.
CORRECTION   With apologies – in the previous issue it was stated that the Village Carol Service would be at this church at 6.00pm on Sunday 16 December.   This was correct in most respects but the service will in fact be at St Oswin's, not here.
PRAYER FOOTNOTE   Lord God, who greets us anew in the change and challenges of each day, grant us insight to recognise you at work, stillness to hear you speaking to us through the events of this day, and courage to respond.    Amen    Ian White
Information for the next issue to Brian Japes by 7.00pm on Tuesday at the latest please
Tel: 852151 email:- brian@japesfamily.co.uk