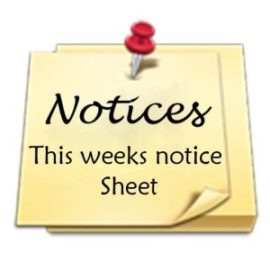 NOTICES FOR THE WEEK COMMENCING SUNDAY 21 JULY 2019
SUNDAY 21 JULY
10.45am   Our worship this morning takes the form of a "Whole Church Celebration", for all ages, and is to be led by our minister, Rev Jenny Porterpryde.
It is assumed that children will remain in church this morning but, if there are any little ones for whom crèche facilities would be more appropriate, these are available in room 1, across the atrium, providing there is parental supervision.
We are very grateful to Marjorie Warwick, who although she has moved away, has very kindly made provision for the flowers that are decorating the church today.
If you wish to use the loop system, please turn your hearing aid to the appropriate setting.
Do stay if you can for coffee, tea or juice, which will be served in the foyer immediately following this service.   Any donations for refreshments after church are, from this month, going to "All You Can", the title of the charity that used to be known as the Methodist Relief and Development Fund.
WEDNESDAY 24 JULY
7.00 to 9.00pm    The next of our Wednesday Coffee Evenings will take place at the home of Anne and David Featonby.   All are welcome to call in either for the duration or for whatever time you can spare.
SATURDAY 27 JULY
10.30am to 12 noon    Coffee/Tea will be served in the foyer if you care to drop in for refreshments
SUNDAY 28 JULY
10.45am   We look forward to welcoming Ann Worthy, from Prudhoe, who is appointed to lead our worship this week.
ADDITIONAL NOTICES AND FOR YOUR DIARY:-
PRAYER INITIATIVE  In this final week of July, the Wylam and District Churches Prayer Initiative invites us to continue to pray for the Church Road, Woodcroft Road and Ovingham Road areas of the village, with a general theme of "Social Services".   Particularly prayer this week is for "people with a disability".
SONGS OF PRAISE   On Sunday 25 August we are having a "Local Arrangement" service here which is to take the form of a "Songs of Praise". If you have a favourite song/hymn or reading that you wish to suggest, and are perhaps prepared to say why you have chosen it, please speak to David Featonby.
HOLIDAY CLUB    Please remember that the Holiday Club, with the theme of "Waste Watchers", is getting ever closer; Tuesday 13 to Thursday 15 August.   Children can be registered in advance to reserve a place by contacting Ruth on 07421 018 976 or ruthlindridge@icloud.com. There are publicity slips on the table in the atrium, which you can pass on to friends and family.
FUNDING OF YOUTH WORKER   The opportunity is being taken in this issue to highlight the need for financial support to ensure that the Wylam and District Churches are able to continue to employ a part-time Christian Children's and Youth Worker, the position currently held by Ruth Lindridge. Please take the time to read the letter, which follows these notes, and which is intended for members of the church congregation.
PRAYER FOOTNOTE   Faithful God, when all is not well and when, in our searching, we find too easy answers, then help us to trust: in your justice and truth, your mercy, forgiveness and your steadfast loving-kindness. We ask this in the name of the crucified and risen Christ.                                        Amen      David Emison
Material for the next issue to Brian Japes by 7.00pm on Tuesday at the latest please Tel: 852151 email:- brian@japesfamily.co.uk
Please refer to the note above, which explains the following letter:-
Wylam and District Churches
Employment of Youth and Children's Worker
Since January 2004, the four covenanted churches that are Wylam and District Churches have been committed to employing a part-time Christian Youth and Children's Worker, to work with the churches and to promote and facilitate work among children and young people within our church communities and beyond.
The project was initially funded by a number of one-off grants from charitable bodies, donations from individuals within our congregations and contributions from the member churches. Money raised from the annual "Jump for Joy" and, until this year, a second-hand book stall, which was part of Wylam Summer Fair, have continued to assist in sustaining the work.
A few years ago finances were in a strong enough position that annual contributions from the churches were suspended. However, that position has now changed and in order to ensure that the work will continue and hopefully develop further, the Trustees asked the churches to re-establish regular contributions from this year, which they have agreed to do.
At present, the cost of the scheme amounts to between £6,500 and £7,000 a year, with costs inevitably rising, and it is estimated that our reserves will be virtually used up by next year, 2020. Even resuming church contributions at their previous level will still leave about £1700 per year to be raised, and this would not cover the cost of inflation or any new developments.
The principal aims of the project remain, as they have always been, to help children and young people to develop Christian values and to nurture within them a deeper knowledge of God's love. We know that there are some within our congregations who consider this to be a priority for the church of today, and it is for this reason that we are asking you to consider whether you could help to finance the continuation and possible expansion of this work over the coming years.
We invite you to give prayerful consideration to this need and, if you are able to help, ask you to either make a one-off donation or to consider a regular contribution towards the work. If either course of action is possible and assuming you are an eligible taxpayer, we would ask if you could make your contribution under "Gift Aid", which would add to the value of whatever you give.
The size of your contribution and whether it's a one-off donation or a regular monthly or annual commitment doesn't matter. Every little bit will help.
If you are able to make a regular commitment, please complete a Bank Standing Order and a Gift Aid form (if you are eligible), which you will find together on the table or stand in the atrium. You can either return forms directly to the Treasurer, Michael Gibbney,  who will then pass Standing Orders to your bank, or to the Secretary, Brian Japes, at this church. Cheques for one-off payments should be made payable to Wylam and District Churches and passed to either of those named.
If you cannot easily obtain the form(s), please request copies by responding to this email.
Thank you for reading this and for perhaps considering the request.
The Trustees, Wylam and District Churches
July 2019