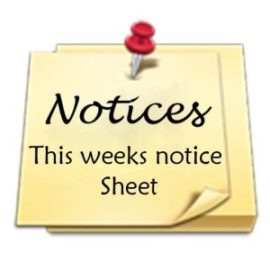 NOTICES FOR THE WEEK COMMENCING SUNDAY 18 AUGUST 2019
SUNDAY 18 AUGUST
10.45am   We offer a warm welcome to Peter Smith, from Hexham, who is appointed to lead our worship for the first time this morning.  This service takes the form of a "Whole Church Celebration", for all ages.  A special welcome to any children that were at the Holiday Club this week.  We understand there will be some things of particular interest for you this morning.
It is assumed that children will remain in church today, but if crèche facilities would be more appropriate for any little ones, these are available in room 1, across the atrium, providing there is parental supervision.
If you wish to use the loop system, please turn your hearing aid to the appropriate setting.
Do stay if you can for coffee, tea or juice, which will be served in the foyer immediately following this service.
Any donations for after-church refreshments are now going to "All We Can", the charity that used to be known as the Methodist Relief and Development Fund.
MONDAY 19 AUGUST
from 9.30am    Today we will be cleaning, (mainly washing), the soft play equipment in the church hall.  If you can spare even an hour or two, whether or not you have already indicated your help, it will be greatly appreciated.  There's a list on the notice board if you wish to sign-up in advance.
WEDNESDAY 21 AUGUST
7.00 to 9.00pm   The next of our Wednesday Coffee Evenings will take place at the home of June Pattinson.   As always, all are welcome to call in, either for the duration or for whatever time you can spare.
SATURDAY 24 AUGUST
10.30am to 12 noon   Coffee/Tea will be served in the foyer if you care to drop in for refreshments.
SUNDAY 25 AUGUST
10.45am    Our "local arrangement" worship today will take the form of a "Songs of Praise".    This will be a relatively informal service with favourite hymns, songs and readings, which we hope will be enjoyed by all ages.
ADDITIONAL NOTICES AND FOR YOUR DIARY:-
HOLIDAY CLUB   We are very grateful to everyone who helped to make the Wylam and District Churches Holiday Club a success last week.   We were blessed with lots more children than last year, who all appeared to have a wonderful time.  A special thank you to Ruth and those who acted as group leaders or performed other key roles, but also to everyone else who gave their time to assist in so many ways.
"FAIRTRADE"   You are probably aware that although we still use "Fairtrade" for our coffee and toilet/kitchen roll supplies, we no-longer stock up with more general items, which we previously sold from the roller-front cabinets in the foyer.  Our General Church Meeting agreed that these cabinets would be moved to Room 1, to improve storage there.  The very few remaining items are to be found on a table in the foyer this morning, mainly a few packs of Christmas cards.  Please have a look, take what you can use and leave a donation in the box provided.  As they say in the shops sometimes, "everything must go"!
PRAYER INITIATIVE   Within our community, we continue to pray for the residents of Bell Road, Jackson Road and Hedley Road.  The general prayer theme this month is for the Emergency Services, this week remembering particularly the Northumbria Ambulance Service.
PRAYER SPACE   We will be changing the theme of our Prayer Space from 21 September to "Thankfulness and Generosity".  God has been so good to us in so many ways and we have much to be thankful for.  Our thankfulness can be expressed in many ways, in generous action towards others and in worship.  If you have ideas of themes for thankfulness; prayers, scriptures, images, examples of stories of generous giving, etc.. – please let Hilary or Bev know in person or by email.
OPEN TIME FOR LISTENING AND PRAYER   From September, we are planning to have a time at the church on Thursdays between 12 noon and 1.00pm, where two members of the prayer team will be available for listening and prayer.  Anyone is welcome to come along to be heard in strictest confidence, with or without prayer, or simply to use the church or prayer corner in silence.   There is no need to book.
The prayer team members who are on duty each week, will also use the time to pray for the life of the church, its members and our community.  Any prayer requests can be directed to whoever is on duty by telephone or email.  All requests will be treated with strictest confidence.  The rota will shortly be on the main noticeboard with email addresses and phone numbers.
HORSLEY CHURCH "WEEKEND OF MUSIC"   We are invited to enjoy all or part of this special weekend of music, in aid of local charities for the homeless.  On Friday 6 September at 7.30pm there is to be a "Concert Royal", featuring Peter Harrison (flute), Rachel Gray (violincello) and John Treherne (pianoforte).  Tickets are £8 (£4 concessions).
On Saturday 7 September at 7.00pm, the performance is "Astonishing" – awesome songs featuring young voices, accompanied by Julia Cobby.  Tickets £8 (£4 unwaged).  Posters giving full details can be seen on our notice board.  Tickets are available from David Featonby, Roberta Ritson or "The Hearth" café.
"CREATING SAFER SPACE" (SAFEGUARDING) TRAINING   There are to be two courses within the Circuit during September.
These will be as follows:-
Foundation Course (Initial)  Haydon Bridge Methodist Church on Tuesday 10 September at 7.30pm.
Foundation Course (Refresher)  West End Methodist Church on Saturday 28 September at 10.00am.
Please note that there's a very long list of those who, by virtue of their role within the church, need to attend and 'certification' has to updated every FOUR years.  If you have any doubt about your need to attend or your current status, please speak to Anne Featonby, our Safeguarding Officer. Places need to be booked with Kathleen Armstrong (Circuit Administrator) on 01434 684 483 or at kathleenoffice50@gmail.com
HEXHAM ROCK CHOIR and SPEAKER   We are invited to "an evening of inspiring music" in the company of the Hexham Rock Choir, with guest speaker, Dr Alex Duncan MBE.  This will be held at 7.30pm on Friday 6 September at the Tynedale Function Suite at Hexham Mart.  Tickets are £5, in aid of the Hexham Oncology Dept. and available from Richard Dodds (01434 681847 or richali.dodds@outlook.com)
"SPIRIT WORKS" with Roger Jones    It is still a long way ahead but you can register now for this day with Roger Jones, on Saturday 21 September, 10.00am to 4.00pm at Trinity Methodist Church, Hexham.  The day will include worship, Bible teaching and workshops covering themes from the book, "Spirit Works".   For a registration form, contact office@hexhamtrinity.org.uk or 01434 601055.
COMING SOON   Although we don't wish the last weeks of the school holidays to pass too quickly, it's worth remembering that within a few weeks many of our regular activities will be starting up again.  Perhaps more details next week but for now, make a note that the next "Messy Church" will be on the afternoon of Sunday 8 September, starting at 4.00pm.   Fun, games, crafts and bible stories for youngsters, with tea provided!
PRAYER FOOTNOTE   Living God, when we feel the shaking of the foundations and try to retreat into the security of the past – teach us that you are the God of the future;
Living God, when we are tempted to despair, when events move so quickly and it seems there is no way forward – teach us that you are the God of hope;
Living God, when things happen beyond our understanding and we find our trust in you is threatened – teach us that you are the God of all faith;
Living God, in the fast moving world, when we find our values questioned and it is not easy to perceive what is right – teach us that you are the God of all wisdom.
So may we learn to live each day in company with you and to follow you wherever you will lead us.      Amen               Nigel Collinson
Material for the next issue to Brian Japes by 7.00pm on Tuesday at the latest please Tel: 852151 email:- brian@japesfamily.co.uk