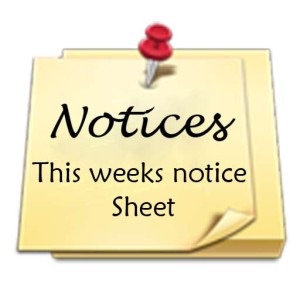 NOTICES FOR THE WEEK COMMENCING
SUNDAY 10 DECEMBER 2017
SUNDAY 10 DECEMBER     Second Sunday in Advent
10.45am   We welcome Diane Wylie, from Corbridge, who is to lead our worship on this second Sunday of Advent. We will be lighting another of our Advent candles early in this service.
Children are invited to go directly to their own Youth Church today, where rehearsals for the special "Nativity" service, to be held next Sunday, continue. If there are any little ones for whom crèche facilities would be more appropriate today, these are available in Room 1, providing there is parental supervision.
If you wish to use the loop system in the church, please turn your hearing aid to the appropriate setting.
The flowers in church today have kindly been provided by Linda Nolan, to whom we are very grateful. Linda is the daughter of the much-loved, late Winnie and Norman Henderson.
Please stay if you can for coffee, tea or juice, which will be served in the foyer immediately after this service.
4.00 to 5.30pm    Christmas Messy Church will take place in the hall. Do encourage any young families to come along. ..and pray for all those who do.
7.30 to 9.00pm   The Sunday Home Group will meet this evening at the home of the Favraud family, when all are invited to continue the study of "The Story". This week Chapter 31.
MONDAY 11 DECEMBER
9.00 to 11.30am    Soft Play sessions continue in the hall, today mainly for pre-Playgroup aged children.
TUESDAY 12 DECEMBER
2.30pm   The Women's Meeting (Methodist Women in Britain) will meet again in the foyer, when Marie Hutchinson will be sharing some "Reflections on Christmas". All ladies are invited. Refreshments will follow the meeting.
7.30pm     We are invited to a Concert, to be given by Hexham Brass, in the West End Methodist Church, Hexham, in aid of "Tynedale Hospice at Home".    Admission is £5 (children under 16 free). All are welcome – pay at the door.
WEDNESDAY 13 DECEMBER
10.30am (with coffee/tea served from 10.10am)    The monthly Men at Home meeting will be held in the foyer, but please note that we have been forced to change the speaker and subject this month.   We are pleased that Carol Burnett has kindly agreed to come, and will talk about "A Short History of Plant Medicine".    All men are warmly invited to come along.
12 noon   The Wednesday "BLT" group will meet in Room 1 for the final time before Christmas, to continue the study based on the New Testament section of "The Story", led by Rev Jane Cook. Packed lunches from 12 noon, with the study session from 12.30pm. All are welcome.
Please note that the Wednesday Home Group is now beginning a Christmas break. Back again on Wednesday 10 January when, as ever, all are welcome to join in at the home of Bev and Tim Kenny.
THURSDAY 14 DECEMBER
1.00 to 3.00pm   A Soft Play session will take place in the hall, today primarily for babies and toddlers.
SATURDAY 16 DECEMBER
10.30am to 12 noon   Coffee/tea will be served as usual in the foyer, when all are welcome to call in.
5.00 to 6.30pm "The Hub", for youngsters in years 4, 5 & 6 will meet again in the hall.
7.00 to 9.00pm   "The Gathering", for school year 6 and above, will take place in the hall. Young people in either of these age groups are very welcome to come along for games, activities and some food!
SUNDAY 17 DECEMBER    Third Sunday in Advent
10.45am    Our rather special "Whole Church Celebration" this morning will take the form of a presentation of the "Nativity Story", given by the children of our Youth Church (with a little help from a few bigger people!) We do hope that as many as possible will try to come along.
6.00pm   This evening we are hosts to the Annual Village Carol Service, to be led by Rev Jane Cook.   Please refer to a note below relating to the hospitality we plan to provide following this service.   This is always a significant event as we approach Christmas, and we hope that you will not only come if you can, but will help to offer a warm welcome to others who attend.
ADDITIONAL NOTICES AND FOR YOUR DIARY
CAN YOU HELP?   Two imminent events require us to provide refreshments, and our help is requested.  Mince pies are needed for refreshments after the Carol Service next Sunday evening, along with people willing to prepare and serve the coffee. Offers also of mince pies or tray-bakes to serve after the Gareth Davies-Jones Concert on Friday 22 December. If you can make an offer for either or both events, please sign the lists on the notice board or speak to Beverley Kenny or David Featonby.
STATIONING    We have been advised that no match has again been found for this Circuit in the second round of Stationing, which has taken place during the past week. We continue to seek everyone's prayers that someone suitable will still be found for this church and the other connected churches for September 2018.
CHRISTMAS CARDS    A display board is now provided in the foyer for all who wish to display a single Christmas card offering a collective greeting to all your church friends. In return, we are requested to make a donation of the money saved (cards and possibly postage) to "ShelterBox", the International Disaster and Relief Charity.  Please place your donation in an envelope marked "ShelterBox" on the collection plate on any Sunday, or by passing it to one of our Church Stewards.  Please note that our voluntary donations for coffees/teas on Sundays are also now going to "ShelterBox".
CHOIR CONCERT   The Ovingham and District Choir will be giving their annual Christmas Concert in the church here on Thursday 21 December, at 7.30pm.  The programme will include Dvorák's Mass in D and the usual range of Christmas choral pieces and carols.
FANCY SOME CAROL SINGING?    The Chaplaincy Team at The RVI and Freeman Hospitals have once again arranged carol singing in some wards at these two hospitals and invite local church people to join in.  The dates/venues are:-  Meeting outside the Medicinema at the RVI (main entrance and up the escalator to the left) on Friday 22 December at 6.30pm, and at the Chaplaincy Department at the Freeman Hospital on Sunday 24 December at 6.30pm.   More information can be obtained from the duty Chaplain, 0191 233 6161 extn. 48129 or direct dial 0191 244 8129.
GARETH DAVIS-JONES CONCERT   A reminder that Gareth, also featuring daughter Bronwyn, is once again performing here on Friday 22 December at 7.30pm (doors open 7.00pm) with "Nine Lessons – Songs and Stories for Advent and Christmas".  Tickets are £8 single, £20 family, available from David Featonby or Steve's Emporium. There will be fair-traded coffee and refreshments on sale. All profit, after expenses, will go to Christian Aid.
CRANBERRY AND ORANGE SAUCE    Coral Smart is once again offering jars of her wonderful sauce in time for Christmas. To place an order, please either sign the list on the notice board or speak directly to Coral. Price depends on the wide range of jar sizes! This year Coral is donating the proceeds to the Brain Tumour Trust.
COPIES of the new Circuit Plan for January to March 2018 and the Winter issue of "Living Waters", the Circuit Magazine, are available in the atrium.  Do please help yourselves.
BOOKINGS   We repeat the request from Alan Smart, our Bookings Secretary, who wishes to know now the "start-up" dates for regular meetings in 2018 and, of course, requirements for any "one-off" events.
PRAYER FOOTNOTE:–   Mysterious, empowering God, where there is healing, may there be thankfulness.
Where situations have to be endured, may there be strength to cope, trusting in you. Where the door of death is open, may there be a peaceful journey for the traveller and comfort for those left behind. For all, may there be wholeness of spirit, awareness of your presence and refreshment through your love.    Amen     Ros Murphy
Material for the next issue to Brian Japes by 7.00pm on Tuesday at the latest please
Tel: 852151 email: brian@japesfamily.co.uk