NOTICES FOR THE WEEK COMMENCING
SUNDAY 12 AUGUST 2018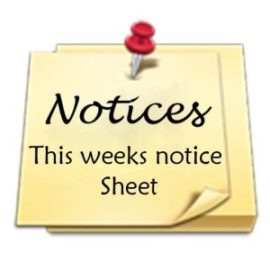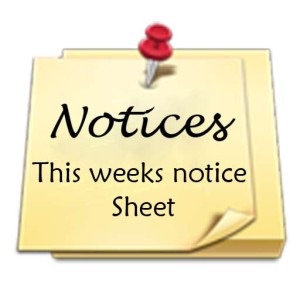 SUNDAY 12 AUGUST
8.10am    If you see this in time, the Sunday Service on Radio 4 this morning is one recorded last week at
the Keswick Convention, which it is thought might be well worth listening to – even if you are still in bed!
10.45am    We extend a warm welcome to Ian Warburton, from Prudhoe, who is to lead our worship this
morning.
Children are invited to come into church for the first part of this service before leaving for their own Youth Church.    Crèche facilities are also available for any little ones, in Room 1 across the atrium, providing there is parental supervision.
The flowers in the church today have kindly been left from the wedding that took place here yesterday, for which we are very grateful.
If you wish to use the loop system in the church, please turn your hearing aid to the appropriate setting.
We do hope that as many as possible will stay for coffee, tea or juice, which will be served in the foyer immediately after this service. Please remember that any donations for refreshments after Sunday services are currently going to the "HOPWOSC" charity.
2.00 to 4.00pm    A reminder that our friends at Corbridge Methodist Church invite us to call in to see "The Greatest Story Ever Knitted", a display of beautifully created scenes from the bible in knitted form.   Admission is free, but donations are invited in aid of the Bible Society.   If you didn't take the chance to pop along yesterday (Saturday, 10.30am to 4.00pm), this is the final opportunity.
WEDNESDAY 15 AUGUST
7.00 to 9.00pm    The next of our Wednesday Summer Coffee Evenings will be held at the home of Bev and Tim Kenny, to whom we are very grateful. All are welcome. Come along for all or part of the time, whatever is convenient.
SATURDAY 18 AUGUST
10.30am to 12 noon   Coffee or tea will be available again in the foyer. All are welcome if you would like to call in for refreshments and a chat at any time.
SUNDAY 19 AUGUST
10.45am     Our worship this week is to be led by "our own" Graham Wilson.
ADDITIONAL NOTICES AND FOR YOUR DIARY
FROM JANE COOK    We have included previously the note of thanks from Rev Jane Cook for the gift she received from this congregation at her final service here last month.    A card from Jane, which endorses her thanks, can be seen on the main notice board.
But now ………….
Jane's Welcome Service in the Sunderland Circuit will be at Cleadon Methodist Church on Wednesday 5 September at 6.00pm and any who wish to attend will be very welcome.   The address of the church is 8 Sunderland Road, Cleadon, SR6 7UT.   There is a small car park and plenty of on-street parking.   Jane adds that we will also be welcome to an 'open house' at the Manse, (See printed copies or church notice board for address), from 3.00pm that afternoon, although she does ask that if you think you might be coming, please send her an email as it would be good for her to know how many sandwiches to make
PLEASE ALSO REMEMBER that there will be a Circuit Service here at Wylam, at 6.00pm on Sunday 2 September, when our new minister, Rev Jenny Porterpryde, and Rev Marie Beard will be formally commissioned in their new roles within the Circuit. Do make a note in your diaries if you have not done so already.  Rev Rob Hawkins, former minister of Jesmond Methodist Church will also, after convalescence following surgery, be working part-time in the Tynedale Circuit and may also be at this service.
ARE YOU READY FOR SOME "TEAM BUILDING"?    It's just over a week to go now, so please remember that "Team Builders" is the theme for the Wylam and District Churches Holiday Club, taking place here from Tuesday 21 to Thursday 23 August, 9.45am to 12 noon each day, with Monday 20 August being the day for setting things up.   If you have yet to offer help, there's still a list on the main notice board for you to sign up, indicating your willingness to do so.   There are also a number of fliers available (which include a registration form on the back) to remind friends or perhaps neighbours with children in school years 1 to 5 from this September.   Please take what you need. If you have any queries, please contact Ruth on 07421 018 976
ORGAN RECITALS AT KESWICK    "Just Bach" is a series of hour long relaxed recitals at St John's Parish Church, Keswick, given at 4.00pm each Sunday during August by John Cooper Green, a renowned organist with immense experience, including a time as organist at Chester Cathedral.   The audience is invited to enjoy tea and cake, sit and read, write, sew, knot or just listen while John plays and briefly explains what lies behind the works.   A full programme can be seen on the yellow sheet on the notice board.   Why not get together and a few go over after church one Sunday?   You will not regret it!  (Free admission, donation invited towards the tea etc)  (St John's Church is where Rev Charles Hope, formerly Vicar of Prudhoe, is now serving.)
MISSION SHAPED INTRO COURSE   "Mission Shaped Intro" (or "msi") is the title of a five-week course being held on Tuesday evenings commencing on Tuesday 18 September at Ryton Methodist Church.   This venue is probably nearer than most places within our own Circuit where such a course might be held, and may therefore appeal to some.   The course is to help people to reconnect with the communities they are called to serve and to re-imagine the forms of church that are needed for the 21st Century.   The course is free but handbooks need ordering so, to book a place, contact Natalie Clark at admin@swtyneside.org.uk or by phone on 07794 205 428. (If this information is new to you – shame on you!   You have not read, as requested, Elaine Lindridge's Newsletter which has been on the notice board for several weeks.)
"IGNITE"    This is another course, also starting on Tuesday 18 September but between 12 noon and 3.00pm at Haydon Bridge Methodist Church.   This is a year-long weekly programme of worship, teaching and discovery.   Details can be seen on a poster on the main notice board but, better still, read the testimonies in the Summer 2018 issue of "Living Waters" (copies in the atrium), written by several people from our own Circuit who attended a previous course at Prudhoe.   If you are interested or have questions you wish to ask, speak to Rev Jenny Porterpryde or email ignitenewcastle@gmail.com
This course will also be running at Jesmond Methodist Church, starting on the same date but in the evening, 7.00 to 9.45pm.
"MEN AT HOME"    The monthly meetings of this group will re-commence here on Wednesday 12 September at 10.30am – second Wednesday of each month.   Once again there's the promise of some very interesting topics lined up, with excellent speakers.   If you have not already picked up a copy of the new programme, please help yourself to one from the display in the atrium.
PRAYER FOOTNOTE   O Saviour Christ, light of the world and Prince of Peace: give to those who pray a longing for your Kingdom of justice and love.   Grant to those who lead the nations the true welfare of their people, and to those at war the wisdom of settlement and peace.   Take from our hearts all greed, envy and pride and equip your church throughout the world with the gift of prophetic speech and the ministry of reconciliation; and this we ask for your own name's sake.    Amen                                                                                                                                                                                                                            Norman Wallwork
Information for the next issue to Brian Japes by 7.00pm on Tuesday at the latest please
Tel: 852151 email:- brian@japesfamily.co.uk