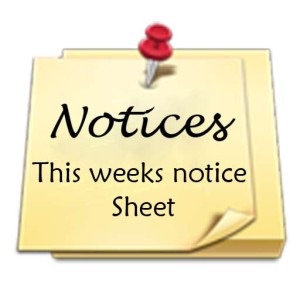 NOTICES FOR THE WEEK COMMENCING
SUNDAY 22 OCTOBER 2017
SUNDAY 22 OCTOBER
10.45am    We extend a very warm welcome to Jacqui Cameron, from Stocksfield, who is to lead our
worship this morning. Jacqui is a Local Preacher "on trial" and we take this opportunity to wish her well throughout that process.
Children are invited to come into church for the first part of the service today, before leaving for their own Youth Church.   Crèche facilities are also available in Room 1 (across the atrium), if this is helpful for any little ones and provided there is parental supervision.
The flowers in church today have been provided by Barbara and Philip Brooks, to whom we are very grateful.
If you wish to use the loop system in the church, please make sure that your hearing aid is turned to the appropriate setting.
Refreshments in the form of coffee, tea or juice will be served in the foyer after this service and we hope that as many as possible will stay for a chat in either the foyer or atrium.
Please note, no Sunday Evening Home Group this week as it's Half Term.
MONDAY 23 OCTOBER
Half Term   this week, so no Soft Play sessions today or Thursday. Soft Play will resume next week, 9.00am on Monday 30 October
TUESDAY 24 OCTOBER
Please pray for our Circuit Stationing Committee which will be deciding this evening on a short-list of possible ministers for Wylam, Riding Mill and Corbridge to take up position from September 2018.
WEDNESDAY 25 OCTOBER
12 noon    The Wednesday "BLT" group will meet again in Room 1, when they will continue the study based on the New Testament section of "The Story", led by Rev Jane Cook. Packed lunches from 12 noon, with the study session from 12.30pm. All are welcome.
Please note that the Wednesday Home Group is taking a break this week, as it's Half Term.        Back next week, continuing "The Story" at Chapter 27.
FRIDAY 27 OCTOBER
Please note that the Ukulele Groups are taking a break during Half Term. Back next Friday, 3 November.
SATURDAY 28 OCTOBER
"Perspectives" – Last Saturday of the month is the usual day but next meeting – Saturday 4 November.
10.30am to 12 noon Coffee/Tea will be served again in the foyer. Do come along for refreshments and a chat, and why not invite a friend or two to come along with you?
10.30am   The Autumn Circuit Walk will take place today in the area around Slaley, starting from Slaley Methodist Church and led by Pete Hutchinson.  The walk will be approximately 8/9 miles. Please refer to the notice board for further details.
SUNDAY 29 OCTOBER
10.45am   Please remember that clocks should have been changed (back one hour) this weekend, prior to this service, so don't come too soon!
Worship is to be led by our minister, Rev Jane Cook and this week that worship will take the form of another Café Church.
Please think about whether there is anyone you might or should invite to church this week, for a very informal hour of coffee, conversation and reflection.
7.30 to 9.00pm   The Sunday Home Group will resume, meeting this week at the home of the Green family, when all will be welcome. Studies from "The Story" will continue, this week Chapter 27.
ADDITIONAL NOTICES AND FOR YOUR DIARY
CHRISTIAN AID QUIZ    We are pleased to report that the Village Quiz, held on 11 October, raised the wonderful sum of £546 for Christian Aid. Our thanks to Angus and Janet Palmer for organising what proved, once again, to be a great fun evening, and to everyone who helped on the night and/or supported the event by taking part.
CHRISTMAS SHOE BOXES    We are invited to help in providing Christmas Shoe Boxes, in aid of The Newcastle West End Refugee Service, The People's Kitchen and "Walking With" (based at St Luke's Church, Wallsend and working with Refugees).
Boxes must be completed and at church here please by Sunday 19 November.
If you are able to help, the essential information is as follows:-
Please include;
Hat, scarf and gloves, Socks, Tee shirt, Boxer shorts (or knickers)
Toiletries (tooth brush & paste, deodorant, shampoo, soap etc.)
Wipes, Paper tissues
Sweets /chocolate bar
A Christmas card
Don't forget to put a plastic bag at the bottom of the box to make it easier for the recipients to carry the
box away.
Please remember to label each gift-wrapped box as MALE or FEMALE (Stickers for  this will also be available in the foyer ) however there is a greater need for boxes suitable for Men, so please bear this in
mind when making up a box.
LET'S CELEBRATE!    At 7.30pm on Friday 3 November, an event is to be held in the foyer to Celebrate the 500th Anniversary of the Birth of the Reformation.  There will be a short (fun!) quiz, a 4 minute animation on Luther's life, cake, drinks and chat followed at 8.15pm with a showing of the docudrama  "Luther: The Life and Legacy of the German Reformer" (lasts 91 minutes – and gets good reviews on Amazon).   Free entry, but donations for refreshments welcome on the night.
BONFIRE NIGHT    Sunday 5 November is bonfire night!! Tim and Bev are lighting a bonfire in their garden at 5.00pm and will be serving sausage sandwiches from about 5.15pm. All are welcome, but please sign up on the noticeboard so they know roughly how many sausages to cook. (Bring cake, drink, sparklers, marshmallows, etc, to add to the occasion – and a picnic chair if you want to sit down.)
"LIGHT AMID THE SHADOW"   This is the title of a "Quiet Morning", based around the work of Rev G A Studdert-Kennedy ("Woodbine Willie"), to be held at Horsley Village Church on Saturday 11 November, 10.30am to 1.00pm (with coffee from 10.00am).  The morning will be led by Rev Ruth Crofton, a retired URC minister.  Full details can be seen on the notice board or, if you require more information, call 01661 853081. Donations are invited to defray costs.
REMEMBRANCE SUNDAY    This year, Remembrance Sunday is on Sunday 12 November. Please note that arrangements for our Village Act of Remembrance and United Service will be rather different this year. We will start with the Act of Remembrance at the War Memorial, beginning shortly before 11.00am, after which we are invited to process to St Oswin's Church for a United Service commencing as near as possible to 11.30am.  Refreshments will follow the service in St Oswin's Church Hall. Anyone not wishing to join the walk from the War Memorial to St Oswin's can of course go directly to St Oswin's.
50th BIRTHDAY!   Jane Cook is soon to celebrate her 50th birthday and we are going to have a celebration lunch for her after the service on Sunday 19th November.  The lunch will be a buffet and everyone is asked to bring something savoury and something sweet to contribute. Our friends from Jane's other churches at Riding Mill and Corbridge will be joining us too. We look forward to a lovely opportunity to wish Jane a very happy birthday and hope that as many as possible will be able to share in the celebration.
PRAYER FOOTNOTE:- Gracious God, we are disturbed by the reality of Grace, that you love each one of us no more than those we find hard to love. Help us to see others through your eyes and to love regardless of reward. We are comforted by the reality of Grace, that you love each one of us no less than those we hold in high regard. Thank you for your life-giving love, made known to us in Jesus Christ.    Amen      Michaela Youngson
Material for the next issue to Brian Japes by 7.00pm on Tuesday at the latest please
Tel: 852151 email: brian@japesfamily.co.uk