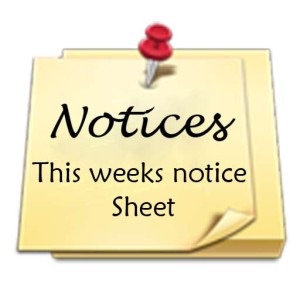 NOTICES FOR THE WEEK COMMENCING
SUNDAY 20 OCTOBER 2019
SUNDAY 20 OCTOBER
10.45am   We welcome our minister, Rev Jenny Porterpryde, who is to lead our "Whole Church Celebration" for all ages this morning.  This service will take a rather different form as a "Kaleidoscope Service", providing a range of ways in which we can choose to participate.  All will be explained at the start of the service but there will be a choice to listen to a sermon, to have conversation and work with clay, for contemplation and journalling, for drama and, weather permitting, to make use of the prayer labyrinth on the grass outside.
It is hoped that all children will be able to find something for them within this mix, but it is assumed that parents will be responsible for their own children.
If you wish to use the loop system in the church, please turn your hearing aid to the appropriate setting.
Please stay for a while if you can to share in refreshments, which will be served in the foyer immediately following this service.  Any donations for these refreshments are currently for "All We Can", the charity formerly known as the Methodist Relief and Development Fund.
3.00pm A reminder of the Youth Concert at Horsley Village Church, a performance of music, songs and readings given by young Tynedale musicians.  The concert will be followed by an afternoon tea. Tickets are £5, school-age children free.  This event is raising money for The People's Kitchen.
MONDAY 21 OCTOBER
9.00 to 11.30am   Another Soft Play session will be held in the hall, today primarily for pre-Playgroup ages.
TUESDAY 22 OCTOBER
7.30pm   A reminder of the Church Council meeting, which will take place in the foyer this evening.
WEDNESDAY 23 OCTOBER
10.00am   Members of the Resources Group are reminded of their meeting, which will be held in the upstairs room.
12 noon   The Bible Lunch Time ("BLT") group will meet again in Room 1, continuing their fortnightly meetings, following the study "God is Closer Than You Think".   Please come along at 12.00 noon if you wish with a packed lunch and share fellowship, or come for 12.30pm when the study will start.  All are very welcome – just come along.
8.00pm   The Wednesday Evening Home Group continue their weekly meetings, again this week at the home of Brian Japes.  Having now completed the study based on John Ortberg's "God is Closer Than You Think, the group will this week discuss, as a one-off subject, "Our Responsibility for God's Creation", prior to taking a break next week during half term.  All who are interested are very welcome to come along.
THURSDAY 24 OCTOBER
12 noon to 1.00pm   Another weekly drop-in time for prayer, will take place here, when two members of our prayer team will be available for listening and prayer.  Anyone is welcome to come along to be heard in strictest confidence, with or without prayer, or simply to use the church or prayer corner in silence.  There is no need to book.  Prayer requests can also be directed to those on duty by telephone or email and there is a list on the notice board of their contact details.
1.00 to 3.00pm   Another Soft Play session, in the hall, today primarily for babies and toddlers.
SATURDAY 26 OCTOBER
8.15 for 8.30 to 10.00am   The next "Perspectives Men's Breakfast" will be held at the Vallum Tea Room, when Ian Neilly will be the speaker, talking about "The Importance of Blood".   Ian has been a Consultant Haematologist for 23 years. Booking is essential – speak to Brian Japes if interested or if you would like a lift. Full breakfast is £10, Continental £8.
10.30am to 12 noon    Coffee and Tea will again be served in the foyer, an opportunity for anyone to drop in for refreshments and a chat.
SUNDAY 27 OCTOBER
10.45am   We look forward to welcoming Rev David Goodall, from Hexham, who is to lead our worship.   Please note that, a little out of our usual sequence, this service will include Holy Communion.
7.30 to 9.00pm   The Sunday Home Group will meet (provisionally) at the home of Anne and David Featonby, this week for a discussion about "The Church's Approach to Environmental Issues".  All are welcome.  As this is a provisional arrangement, please check next week for confirmation.  Please also see the note below.
ADDITIONAL NOTICES AND FOR YOUR DIARY:-
WORSHIP LEADERS COURSE   Anyone interested in joining the currently small group of Worship Leaders in this church is invited to a four-session course to be led by Rev David Goodall, to be held at Trinity Methodist Church, Hexham, commencing on Monday 4 November at 7.30pm.   The course equips participants to share in leading of services with a minister or local preacher, to lead local arrangement services or worship in fellowship groups or similar.   Please let David Goodall know if you wish to attend so that materials are available – email: rev.david.goodall@gmail.com
CHRISTMAS COFFEE MORNING   A reminder that this event will take place here on Saturday 16 November, 10.00 am to 12 noon.   Stalls will include cakes and produce, gifts, crafts, children's books, jigsaws and toys. There will also be a stall selling items for crafting, a new or 'very nearly new' clothes stall will be included along with a jewellery stall.  Please let Brenda Newbegin or Anne Featonby know if you can provide any items for the stalls, or how you could help on the day.
MUSIC EVENT   The Music Committee of the Newcastle Methodist District have organised a Choral Miscellany titled "Christmas is Coming", which will be performed at Trinity Church, Gosforth, on Saturday 9 November, conducted by David Hughes.  There will be a service, including these items at 6.00pm, finishing by 7.30pm  All are welcome to this. If you would like to join the choir, with a workshop in the afternoon, details are on the notice board.  If interested you must respond by 31 October!
PRAYER INITIATIVE    During this month, as part of the Wylam and District Churches Prayer Initiative, we are invited to pray this month for the residents of Stephenson Terrace, Stephenson Court and Falcon Terrace.  The general prayer theme now focuses on Young People, this week thinking particularly about "Messy Church".
SUNDAY HOME GROUP   The day, time and frequency of Sunday Home Group meetings are being reviewed following the change of circumstances of some who attend and the wish to make the meetings more accessible.   If anyone has a view on these points, whether a member of the present group or not, please pass these to David Featonby, who is co-ordinating opinions.
FOR INFORMATION   "BLT" (Bible Lunch Time) sessions at Wylam First School, in which we have been heavily committed for many years as part of the Wylam and District Churches, have now ended, at least for the time being.  This is due to timetabling pressures and room availability at the school. However, monthly "Open the Book" sessions within the school assembly continue and are very popular, as they are at Ovingham Middle School.
PRAYER FOOTNOTE   Heavenly Father, in a world where there seems little evidence of the caring love that our Saviour shows, you challenge us to take love out of our places of worship and into that world.  You call us to go to places where we are out of our comfort zone and are reluctant to go. Forgive us that, though our Saviour was willing to die for us, we are so unwilling to live for him.
Give us the courage and faith to challenge those who have no room for God, to speak peace to aggressive hatred and to put arms of love around the loveless and unlovely.  We have received your grace, help us to accept our calling.     Amen
a prayer from Ackworth Methodist Church, Aire & Calder District
Material for the next issue to Brian Japes by 7.00pm on Tuesday at the latest please Tel: 852151 email:- brian@japesfamily.co.uk