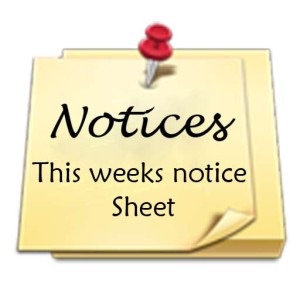 NOTICES FOR THE WEEK COMMENCING
SUNDAY 25 FEBRUARY 2018
SUNDAY 25 FEBRUARY
10.45am   We welcome Marie Hutchinson, who is to lead our worship this morning, with the last of three themed services on the subject of "Growth".
Children are invited to come into church for the first part of this service before they leave for their own Youth Church.   If there are any little ones for whom Crèche facilities would be more appropriate at any time, these are available in Room 1, across the atrium, providing there is parental supervision.
If you wish to use the loop system in the church, please turn your hearing aid to the appropriate setting.
We are grateful to Anna and Craig Little, who have provided the flowers to decorate the church today.
Please stay if you can for coffee, tea or juice, which will be served in the foyer, immediately after this service.
7.30 to 9.00pm    This evening, the Sunday Home Group will meet at the home of the Favraud family, for the second in the series of five ecumenical Lent Study sessions on the theme, "Moving into the Neighbourhood". All are welcome. (Contact John or Catherine – 853665)
MONDAY 26 FEBRUARY
9.00 to 11.30am    Soft Play sessions continue today in the hall, today primarily for pre-Playgroup aged children.
7.30pm    The next opportunity to attend the second Lent Study, will be at the home of April Stephenson (contact April – 852197)
WEDNESDAY 28 FEBRUARY
9.45am to 4.30pm     A final opportunity to consider attending "Re-imagine Circuits", the title of a one-day conference being held by the Methodist Church around the UK. Today at Brunswick Methodist Church, Newcastle. The purpose is to explore new ways of invigorating circuits, to bring new life into their mission. Key speakers, from both the UK and USA, will be leading the day. Further information can be seen on the notice board and (or to book), go to www.methodist.org.uk/reimagine-circuits
8.00 to 9.30pm    The next chance to join a group for Week 2 of the five Lent Study sessions, this evening at the home of Bev and Tim Kenny (contact Tim – 599135). All will be made very welcome.
THURSDAY 1 MARCH
10.30am   The final opportunity this week to attend Week 2 of the new Lent Study series, this morning at St Oswin's Church (contact Rev Tom Birch – 853254). As with all these sessions, this one is open to everyone and all are welcome to come along.
1.00 to 3.00pm   Another Soft Play session will be held in the hall, today primarily for babies and toddlers.
7.45pm   Our Church Council will meet this evening. Please note that this will be in the upstairs room.
FRIDAY 2 MARCH
4.00 to 4.30pm   The Ukulele Starter's Group will meet in Room 1.
4.30 to 5.00pm   The Junior Ukulele Group will meet in Room 1 for their practice session.
SATURDAY 3 MARCH
10.30 to 12 noon   Coffee/Tea will be served again in the foyer for all who wish to drop in, either for the duration or just for a few minutes.
5.00 to 6.30pm   "The Hub", for youngsters in years 4, 5 & 6 will meet again here.
7.00 to 9.00pm   "The Gathering", for school year 6 and above, will also take place here. Young people
in either of these age groups are very welcome to come along for games, activities and, as usual, some refreshments!
SUNDAY 4 MARCH
10.45am   Worship here is to be led by our minister, Rev Jane Cook, a service which will include Holy Communion.
6.00pm   We are all invited to share in a Circuit Service, to be held at West End Methodist Church, Hexham, a service to be jointly led by Rev Stephen Lindridge, Chair of the Newcastle Methodist District, and Rev Elaine Lindridge, District Evangelism Enabler. Light refreshments will be available afterwards.   If you would like a lift to this event, please make this known this morning if possible.
7.30 to 9.00pm   The Lent Study Course will continue at the home of the Green family. This week session 3 (contact John or Catherine – 853665). All are welcome.
ADDITIONAL NOTICES AND FOR YOUR DIARY
LENT COURSE    Please remember that the Lent Study Course, "Moving Into the Neighbourhood", is available at several venues and times during the week, as shown above.  You are welcome to switch groups to suit your availability but, if you do so, please contact the host (on the numbers given above), to check that the venue and/or time has not been changed. The important thing is to take part somewhere if you possibly can!
HEXHAM BRASS are giving a Concert at Haydon Bridge Methodist Church on Saturday 10 March at 7.30pm.   All are welcome. Admission, which includes supper, is £6, payable at the door.
AFTERNOON TEA   Our friends at Stocksfield Methodist Church are holding a "Post Mother's Day Afternoon Tea", to which we are invited.   Saturday 17 March, 1.00 to 4.00pm.   This event is organized by "Lifespan", a Hexham based fund-raising charity. £7 for a full afternoon tea, £3.50 for a cup of tea and slice of cake. Please refer to the notice board for further details.
PERSPECTIVES DINNER    The "Perspectives" (Men's Breakfast) Committee has, once again, arranged a Dinner, which is to be held at Matfen Hall on Thursday 22 March, 7.00 for 7.30pm.   One major difference this year is that wives and partners are invited to join the men!   The after-dinner speaker is to be Brian Griffiths (Lord Griffiths of Fforestfach). You don't have to normally attend the Saturday breakfasts to attend this event. The cost is £28.50 per person, including gratuity. Please refer to the poster on the notice board for details about the speaker and the menu. Brian Japes is happy to forward your booking if you wish to attend.
PLEASE NOTE THIS CHANGE    Anne Featonby and Brenda Newbegin are still intending to hold an "Easter Charity Coffee Morning" here, but a week later than indicated last week due to a clash with a Cancer Research event at Wylam Institute on 17 March.   So, this will now be held on Saturday 24 March, 10.00am to 12 noon.   Please note/amend this in your diaries. More details will follow soon.
ADVANCE NOTICE    The Spring Lecture to the North East Methodist History Society will be given by Dr Christine Seal on the subject "Dales Preachers' Tales".   This will be held on Saturday 24 March at Haydon Bridge Methodist Church, commencing at 2.30pm.                  Dr Christine Seal is our own Circuit Archivist, living in Hexham, who has been actively researching the history of Methodism in the Durham Dales and Tynedale for some time. Admission for non-members is £2, and High Tea is available for £6.50, but must be booked by 16 March – contact Christine, who is also the Secretary, on 01434 608733
PRAYER FOOTNOTE    Loving God, we know you and see you in Jesus; so come to us in friendship and walk with us along the way, that when the pathway is rocky and uphill we may know your strength and, in all circumstances, have eyes which are open to others, that we may be to them instruments of your purpose, sharing faith through encouragement and love.     Amen                                                                                                                                                                                                                                                 Geoffrey Clark
Material for the next issue to Brian Japes by 7.00pm on Tuesday at the latest please
Tel: 852151 email: brian@japesfamily.co.uk