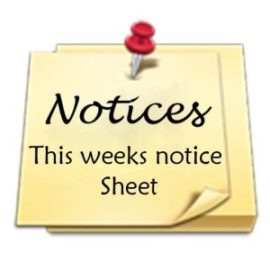 SUNDAY 15 SEPTEMBER   Wylam and District Churches – United Harvest Festival
10.00am      Methodists, please note this earlier start time!
We welcome our minister, Rev Jenny
Porterpryde, who is to lead our worship this morning as we also extend a very warm welcome to those from other churches who have joined us this morning, and indeed any others who may be visiting and have come along today.
A table has been placed at the front of the church today and anyone who has brought a gift of produce for the Food Banks we support, is invited to bring them to the front prior to the start of the service.    All these gifts and others from our regular collection will shortly be passed to the Newcastle West End and West Northumberland Food Banks.
This service will take the form of a "Whole Church Celebration" for all ages and so it is assumed that children will remain in church today.   If crèche facilities would be more appropriate for any very little ones, these are available in room 1, across the atrium, providing there is parental supervision.
If you wish to use the loop system, please turn your hearing aid to the appropriate setting.
We are very grateful to Judith Hunter, who has kindly provided flowers that are decorating the church today but, on this 'Harvest Sunday', to anyone else who has brought flowers or helped to arrange the decoration of the church.
A collection will be taken up during this service from which all loose cash will go to "Water Aid".
Do stay if you can for coffee, tea or juice, which will be served in the foyer immediately following this service.
Please note:-   the Sunday Evening Home Group that was to take place this evening has been postponed until next Sunday – see below.
MONDAY 16 SEPTEMBER
9.00 to 11.30am    A Soft Play session will be held in the hall, today primarily for pre-Playgroup ages.
7.30pm    Rev David Goodall, who enjoyed a sabbatical earlier this year during which he undertook research into "Ways and Rhythms of Life – patterns of discipleship", will be giving feedback about this at Trinity Methodist Church, Hexham, and anyone interested is welcome to attend.
WEDNESDAY 18 SEPTEMBER
8.00pm   The Wednesday Evening Home Group continue their regular weekly meetings this evening, at the home of Bev and Tim Kenny.   The new study, "God is Closer Than You Think", by John Ortberg, will be continued. All interested are very welcome to come along.
THURSDAY 19 SEPTEMBER
12 noon to 1.00pm   Another session of our weekly drop-in time for prayer, will take place here, when two members of our prayer team will be available for listening and prayer.   Anyone is welcome to come along to be heard in strictest confidence, with or without prayer, or simply to use the church or prayer corner in silence.   There is no need to book. Prayer requests can also be directed to those on duty by telephone or email and there is a list on the notice board of their contact details.
1.00 to 3.00pm   Another Soft Play session, in the hall, today primarily for babies and toddlers.
FRIDAY 20 SEPTEMBER
7.00 to 9.00pm   We are invited to the Queen Elizabeth High School, Hexham, for a meeting to hear about and discuss "A Christian Response to Climate Change – Responding with Faith, Hope and Action!"   There will be short films, a time for questions and light refreshments.   This meeting is sponsored by Churches Together in Hexham and supported by Cafod, Christian Aid and Tearfund.   Please see the poster on the notice board for more details.
SATURDAY 21 SEPTEMBER
10.30am to 12 noon   Coffee/Tea will be served in the foyer if you care to drop in for refreshments.
5.00 to 6.30pm   "The Hub", for youngsters in school years 4, 5 & 6 will meet here once again.
7.00 to 9.00pm "The Gathering", for year 6 and above, will also take place here. Young people in either of these age groups are welcome to come along for games, activities and refreshments! Bring your friends along too.
SUNDAY 22 SEPTEMBER
10.45am   We look forward to again welcoming Rev Jenny Porterpryde, who is to lead our worship this week.
7.30 to 9.00pm   The Sunday Evening Home Group will meet this evening at the home of Hilary and Howard Johnson.   All are welcome to come along.
ADDITIONAL NOTICES AND FOR YOUR DIARY:-
PRAYER INITIATIVE   As part of the Wylam and District Churches Prayer Initiative, we continue to pray this month for the residents of South Wylam.   The current general prayer theme this month is for our Public Services, this week thinking particularly of our "Armed Forces".
PRAYER SPACE   A reminder that our Prayer Space is about to be changed and this is a reminder that,
from next week, the theme will be "Thankfulness and Generosity".  God has been so good to us and our thankfulness can be expressed in many ways, in generous action towards others and in worship.   If you still have ideas – prayers, scriptures, images, examples of stories of generous giving, etc. and have not yet passed them on, please let Hilary King or Bev Kenny know as soon as possible.
"IGNITE"   Another "Ignite" course is soon to start in our Circuit, this time on Monday evenings at West End Methodist Church, Hexham, commencing on Monday 23 September, 7.00 to 9.45pm.  Many of those who have attended previous courses have testified to its value.   You can see a poster on the notice board but also read more on page 8 of the new "Living Waters".
AN EVENING WITH C. S. LEWIS   We are invited to Haltwhistle Methodist Church on Tuesday 24 September at 7.00pm, when Ken Williamson, Church Youth Worker, will be presenting the story of this amazing man, who created 'Narnia' and was one of the most significant Christian authors and thinkers of the 20th Century.   Admission is free and light refreshments will follow.
"PERSPECTIVES", Christian Vision for Men, will be commencing their new programme of monthly breakfast meetings on Saturday 28 September at the Vallum Tea Room, 8.15 for 8.30am to 10.00am.   Guest speaker will be Stephen Madgwick, talking about "Pilgrim's Programming".   Stephen was born and trained as a doctor in South Africa but has spent most of his life in the UK. He has recently retired as a GP and as Chair of a Clinical Commissioning Group and he will be sharing his experience, as a pilgrim, to reprogramming his mind and attitudes since retiring.   Booking is essential. £10 full breakfast, £8 Continental.   See the poster and/or speak to Brian Japes if interested.
PLEASE NOTE if you have not already done so, that on Sunday 29 September there will be no morning service here at the Methodist Church, but we hope that everyone will come to another Café Church, at 4.00pm that day.   Please also note that the Annual Macmillan Coffee Morning in aid of Macmillan Cancer Support, will be held on our premises this year, from 10.00am to 12 noon on Saturday 28 September, including a wonderful cake stall.  We trust we will give this our wholehearted support.
MINUTES   A copy of the minutes of our General Church Meeting, together with copies of the Financial and Property Reports presented at that meeting, can now be seen on the main notice board.
COPIES of the Tynedale Circuit Plan for October to December and the Autumn issue of "Living Waters", our Circuit Magazine, are both available in the atrium.  Do please help yourself to copies.
CHRISTMAS COFFEE MORNING   It is planned to hold this event on Saturday 16 November, 10.00am to 12 noon, when part of the proceeds will go to supporting the Wylam and District Churches Children and Youth Worker.   Stalls will include cakes and produce, gifts, crafts, children's books, toys and jigsaws.   There will also be a stall selling items for crafting and a new or "very nearly new" clothes stall is being considered.   Your help will be appreciated, so please note the date and let Brenda Newbegin or Anne Featonby know what you are able to do.
PRAYER FOOTNOTE    We bless you, God of Seed and Harvest and we bless each other, that the beauty of this world and the love that created it might be expressed though our lives and be a blessing to others, now and always.     Amen   A prayer from 'Faith & Worship'
Material for the next issue to Brian Japes by 7.00pm on Tuesday at the latest please Tel: 852151 email:- brian@japesfamily.co.uk