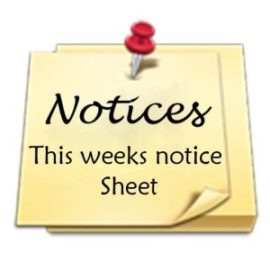 NOTICES FOR THE WEEK COMMENCING SUNDAY 17 FEBRUARY 2019
SUNDAY 17 FEBRUARY
10.45am  Our worship today is a "whole church celebration", led by our minister, Rev Jenny Porterpryde.
It is assumed that children will remain in church today but, if there are any very little ones for whom a Crèche is more appropriate, facilities are available in Room 1, (across the atrium), providing there is parental supervision.
We are trusting that it's now safe to invite those wishing to use the loop system to turn their hearing aid to the appropriate setting.   Please let Brian know if you experience any return to the previous problems.
Please stay for a while if you can for coffee, tea or juice, which will be served in the foyer immediately after this service.
A reminder that contributions for after-church refreshments on Sundays remain voluntary but any money received is now going to the Jachie Anglican Eye Clinic in Ghana.  There are now leaflets in the foyer and atrium outlining the work of this clinic, or for more details, if you are interested, you can go to the clinic's website at www.jachieeyeclinic.org
7.30 to 9.00pm   The Sunday Evening Home Group will meet this evening at the home of Gill Harvey.  The house is near the top of the road, on the right.  All are welcome to come along.
MONDAY 18 FEBRUARY
Half Term this week so Soft Play is taking a break, today and Thursday. Back as usual next week.
TUESDAY 19 FEBRUARY
7.00pm   A reminder of the invitation to Centenary Methodist Church, Crawcrook, for performance of their pantomime, "Whatever Happened to Sleeping Beauty".  Performances run from tonight until Saturday, with an additional matinee on Saturday at 2.00pm.  Tickets are £4 (children £2). Details can be seen on their 'facebook' page ("Centenary Panto") or for tickets email centenarypanto@talktalk.net or text/call 07772306180.
WEDNESDAY 20 FEBRUARY
10.00am   A reminder to members of the Resources Group of the meeting to be held in the upstairs room this morning.
The Wednesday Evening Home Group is also taking a break this week. Back next Wednesday, when all will be welcome.
SATURDAY 23 FEBRUARY
10.30am to 12 noon   Coffee/tea will be served again in the foyer for anyone wishing to call in.
Please note that although this is the last Saturday of the month, the "Perspectives" Men's Breakfast will not take place today but is held back until the following Saturday, 2 March. See later for details.
SUNDAY 24 FEBRUARY
10.45am   Our worship this week is to be led once again by our minister, Rev Jenny Porterpryde.
Sunday Home Group   No meeting this week. Back next week.
ADDITIONAL NOTICES AND FOR YOUR DIARY
WYLAM & DISTRICT CHURCHES    The Annual General Meeting of the Wylam and District Churches, will take place here on Tuesday 26 February at 8.00pm, immediately following a meeting of the Trustees at 7.30pm.  This is an opportunity for members of the congregations of all of our covenanted churches to come along to hear about the work, share in any discussion and perhaps contribute ideas.  We hope that many will take the chance to come along.
"PERSPECTIVES"   The next "Perspectives", Men's Breakfast meeting, at Vallum Tea Room, will be held on Saturday 2 March, 8.15 for 8.30am.  The guest speaker is to be Josh Rieger, speaking about "Having done all, stand firm."  The poster on the notice board gives more details for now about the speaker, but please remember that prior-booking is essential.
CHURCH COUNCIL   The next meeting of our Church Council will take place here on Tuesday 5 March at 7.30pm.  Members of the Council should by now have received a copy of the agenda.  Any apologies to Louise Histon please, the meeting secretary.
PANCAKE LUNCH   On the same day as the Church Council meeting, 5 March, which is Shrove Tuesday, why not treat yourself to a pancake lunch in St Oswin's Church Hall at 12.30pm?  You will be able to enjoy savoury and sweet pancakes in aid of the People's Kitchen.  Tickets are available from Anne Featonby and Brenda Newbegin, minimum donation £5 per adult.
LENT STUDY   Rev Jenny Porterpryde has prepared the Lent Course material which the Wylam and District Churches will be following this year. The theme is "New Life, New Creation", and will be exploring the meaning of "New Life" for ourselves, our communities and our environment.  We can now confirm that the studies will be based in the foyer here on five Wednesday evenings, commencing on Wednesday 13 March, at 7.30pm. (Please note the changed date from previous notices!)  Our two evening 'Home Groups' will combine for these meetings but each meeting will, of course, be open to everyone, including, we hope, members of other local church denominations.  Please book the dates – final details will follow very soon.
"MARRIAGE & RELATIONSHIPS CONVERSATIONS"   The Methodist Conference has encouraged Districts to engage in prayerful discernment about matters relating to marriage and relationships.  The Newcastle District is offering a number of dates and locations and encouraging people to come along and be part of this process.  The list of dates can be seen on the notice board but the nearest to ourselves are:- Brunswick Methodist Church, Newcastle, on Monday 11 March at 1.00pm and Trinity Methodist Church, Hexham, on Tuesday 12 March at 7.30pm.
BOOK THE DATE – CAN YOU HELP?  Anne Featonby and Brenda Newbegin are organising an "Easter Coffee Morning" to be held here on Saturday 30 March between 10.00am and 12 noon.  Proceeds will go to voluntary youth organisations in the village, e.g. Brownies.  There will be stalls for cakes, crafts and toys/books and may be more.  Any donations will be gratefully received. Please speak to Anne or Brenda if you might be able to help.
METHODIST HISTORY SOCIETY   The Spring Lecture to the North East Methodist History Society will take place at 2.30pm on Saturday 30 March at Allendale Methodist Church, when Roger Morris will be speaking about "The Allen Valleys and Methodist Heritage".  Please refer for now to the notice board, for full details including cost and booking arrangements.
A DAY WITH LORD CURRY   We are invited to take part in what is described as a "contextual practice workshop", in conversation with Lord Curry, looking at "Contemporary Agriculture and the Future of Rural Economies".   This will take place at Slaley Commemoration Hall on Monday 1 April.  Assemble 11.30am for 12 noon start, concluding at 5.00pm.  Please refer to the notice board for more details, including cost and booking arrangements.
SAFEGUARDING   A "Creating Safer Space: Advanced Module" training session will be held at Haydon Bridge Methodist Church on Monday 8 April, 10.00am to 3.00pm.  Attendees are required to have attended a Foundation Module training course within the previous 4 years and, from local churches, all ministers, anyone working with children, young people or vulnerable adults, safeguarding officer(s), local preachers, worship leaders and those in "lay pastoral leadership" are expected to attend.   In response to our concerns about the date and timing, we are assured that further courses will be held, some on Saturdays, although all the venues indicated to us so far are some distance away from Tynedale and only two on Saturdays! (Brian Japes can provide a list if it will help you.)  For those able to attend on 8 April, please remember that booking is required by 25 March, and places are limited.  An application form is required, available on-line.  Please be aware that the course also requires attendees to allow 1½ hours for essential preparation prior to the course.
PRAYER FOOTNOTE   God of grace, when we have lost hope in your word, transform our despair.  When we have lost faith in in your love, transform our doubt.   When we have lost our way, transform our confusion. When we have lost your peace, transform our conflict.   God of grace, may we know your love and experience your healing and forgiveness.   In the name of Jesus Christ.    Amen    Michaela Youngson
Material for the next issue to Brian Japes by 7.00pm on Tuesday at the latest please
Tel: 852151 email:- brian@japesfamily.co.uk